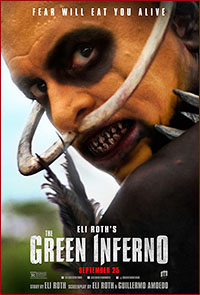 This is Eli Roth's tribute to the cannibal genre, the horror subgenre that the italians started in the 70's. Do I need to say more than classics like «Cannibal Holocaust» and «Cannibal Ferox» ? If this sounds completely unfamiliar to you, I guess it's better for you to just take your hat and go. This is probably nothing for you and never will be.
«The Green Inferno» centers around a bunch of young activists who travels to Peru in order to protest against the wood industry that destroys the rainforest. On their way back, their plane crashes in the Amazon jungle where they meet a cannibal tribe, and we all know how it goes from there. Not good.
Where the Italian cannibal movies are so ugly, grotesque and filthy that you just want to jump right in the shower after seeing one of them, it's mainly the gore effects that stands out here. And they're pretty…meaty, to say the least. Nevertheless, it is a plus that the cannibals were played by real natives in a real jungle in isolated surroundings and not in front of a bluescreen. It's always refreshing to see some real wilderness that adds to the realism. Otherwise, these young activists are nothing more than stick figures that no one could really care about. Still an okay tribute to the genre, if you take it for what it is.

Director: Eli Roth
Country & year: USA / Chile / Canada / Spain, 2013
Actors: Lorenza Izzo, Ariel Levy, Daryl Sabara, Kirby Bliss Blanton, Magda Apanowicz, Sky Ferreira, Nicolás Martínez
IMDb: www.imdb.com/title/tt2403021/