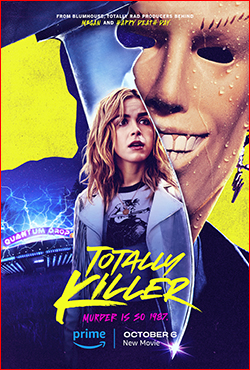 It is the end of October in 1987, and it's Halloween time! For some teenage girls in the small town of Vernon, things have gotten way too scary, however…Tiffany Clark, Marisa Song and Heather Hernandez are all killed by someone going by the nickname Sweet 16 Killer, each having been stabbed 16 times on the night of their 16th birthday. And they all had their birthdays in the days close to Halloween, of course: on October 27, 29 and 31. Many years later, to present day, the murders are still unsolved as the killer was never caught. Jamie Hughes is the daughter of a woman named Pam, who used to be friends with the three victims of the Sweet 16 Killer. Naturally, Pam is having a rather strained relationship to Halloween, and feels anxious when Jamie goes to a concert with her friend on Halloween night. While being at home giving out candy to the trick or treaters, Pam is suddenly attacked by the killer who seems to have come back for her all these years later, and she's stabbed to death. While Jamie grieves over her mother's death, she also helps her friend Amelia finish the final parts of her time machine (yes, an actual time machine), which Jamie later activates and is sent back to 1987. Realizing that she can now stop the Sweet 16 Killer from actually going on the killing spree, she tries to warn people (which goes as well as one might expect) and befriend her mother and her group of friends, hoping to stop the killer and save her mother from dying in the future. But she's got to hurry – or else she will be trapped in 1987…
Totally Killer is a comedy slasher film from 2023, directed by Nahnatchka Khan. It premiered at Fantastic Fest on September 28, 2023, and was later released on Amazon Prime on October 6, 2023. I guess the best way to describe it is a movie where Scream meets Back to the Future. In the leading role we have Kiernan Shipka as Jamie(who also played Sabrina in the Netflix series Chilling Adventures of Sabrina), who plays a typical modern teenage girl. This is something that the movie makes sure to exploit when she gets sent back to 1987, where things are considerably less "politically correct" and Jamie often finds herself baffled by what was apparently deemed okay in the past. While this does sometimes come off as a bit overkill, I can't help but feeling that this is probably exactly how a teenager of today would have experienced a trip to the latter part of the 80's: constantly on edge by all the stuff that could potentially be offensive by someone or something. Whew.
Totally Killer is fast paced, generally fun and very much your typical teenage slasher flick. Already from the start it's very upfront about what it is: a movie that's supposed to be uncomplicated fun mainly aimed at teens. There is no excessive gore to be witnessed, but the violence is moderate and offers some bloody kills here and there. The killer is walking around wearing a Max Headroom-esque mask, which was made by makeup artist Tony Gardner.
Overall, Totally Killer is an entertaining horror comedy in the same vein as Happy Death Day: it's nothing spectacular, but offers just the right amount of amusement which will make it a fun experience. There are some obvious plot holes, especially for those who might like to nitpick on things, but they don't really overshadow the movie as a whole. Just bring forth your Halloween treats and some popcorn, and have fun!

Director: Nahnatchka Khan
Writers: David Matalon, Sasha Perl-Raver, Jen D'Angelo
Country & year: US, 2023
Actors: Kiernan Shipka, Olivia Holt, Charlie Gillespie, Lochlyn Munro, Troy Leigh-Anne Johnson, Liana Liberato, Kelcey Mawema, Stephi Chin-Salvo, Anna Diaz, Ella Choi, Jeremy Paul
IMDb: www.imdb.com/title/tt11426232/