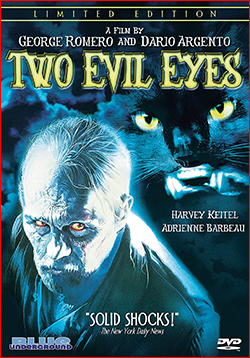 Sometime in the late 80s, George A. Romero was invited to Italy to eat pasta and sip red wine with Dario Argento. The result of that meeting became Two Evil Eyes, an anthology of two films, one hour each, based on stories by Edgar Allan Poe. The original idea was an anthology of four segments in which also John Carpenter and Stephen King was considered to make the other two. However, Carpenter was busy with other stuff while Stephen King, still and forever traumatized by the experience with Maximum Overdrive, had no desire to call himself a "moron" a second time, and thus Four Evil Eyes got reduced to Two Evil Eyes.
THE FACTS IN THE CASE OF M. VALDEMAR – George A. Romero
The millionaire Ernest Valdemar is on his deathbed in his big mansion suffering from terminal illness, and his younger and gold-digging wife Jessica and Dr. Robert Hoffman have a plan: to hypnotize Valdemar into signing the will papers so they can get away with all his money. During the last hypnosis session, things go horribly wrong and the old man dies … well, sort of. They hide him in the freezer in the basement while Valdemar seems to be trapped in hypnosis and moans with a ghoulish voice that a bunch of demons will take over his body.
George A. Romero were on hiatus during most of the 90s where he made only two films; The Dark Half and this one. Instead of tons of gore, we get a slow build-up and an eerie atmosphere where Creepshow meets Tales From the Crypt. Even though the story itself is intriguing, Romero's direction feels as stale as if it was meant to be made for TV, and the runtime could have been cut down to thirty minutes. The scenes with Jessica and Dr. Robert is as dry and boring as a soap opera, and with even stiffer acting than Valdemar in the freezer. As already mentioned though the atmosphere is great, and Tom Savini, who worked on both segments, provides with some top-notch prosthetic makeup and a memorable death-scene.
THE BLACK CAT – Dario Argento
We follow the crime-photographer Rod Usher (Harvey Keitel) who documents the most brutal crime-scenes in Pittsburgh, George Romeo's hometown of all places. Rod is a cold psychopath with a distant relationship with his empathic girlfriend Annabelle. As she feels ignored, she gets some comfort in a stray black cat. The cat hates Rod and he hates the cat back and as the classic story goes, he kills the cat who then starts to haunt him until he descends into complete madness.
The Black Cat is one of Poe's most famous works, and this film adaptation is made in modern times where a crime-scene photographer has been replaced with the author himself, Poe. Harvey Keitel is the money shot here, alongside with FX maker Tom Savini, and the only reason alone to give Two Evil Eyes a watch, to be honest. Argento's segment is also far more stylish, better paced, better acted and of course more graphic.
So, there you have it. Two short horror tales from two directors with their own style of filmmaking and approach to storytelling. And some with more meat on the bone than the other.  For HD buffs, the film is available on 4K Ultra HD from Vingar Syndrome.

Directors: George A. Romero, Dario Argento
Writers: George A. Romero, Dario Argento, Franco Ferrini, Peter Koper
Original title: Due occhi diabolici
Country & year: Italy, USA, 1990
Actors: Adrienne Barbeau, Ramy Zada, Bingo O'Malley, Jeff Howell, E.G. Marshall, Harvey Keitel, Madeleine Potter, John Amos, Sally Kirkland, Kim Hunter, Holter Graham, Martin Balsam, Chuck Aber
IMDb: www.imdb.com/title/tt0100827/