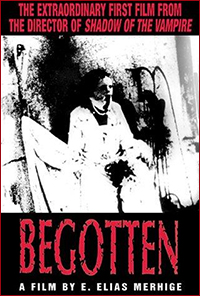 Time for a fun movie for the whole family to enjoy on a Friday night with some pizza. Or maybe not.
Begotten starts inside a cabin where we see a disturbed, horrifying figure sitting in a chair, filmed in a high contrast of black and white. While the soundtrack consists of crickets, bird-chirping and distant heartbeats, we see that the figure starts to cut himself to death with a straight razor. A great product placement right there (haha). Feces stream down between his legs while he's sitting bloody and dying in his chair, gurgling his death rattles. This is God we're talking about, by the way. Out of his fresh dead body comes Mother Earth who uses God's semen to impregnate herself, where we get served some hairy close-ups where she rubs his juice into her vagina. She wanders into an obscure forest landscape where she gives birth to Son of Earth. She then leaves him behind to some faceless nomads who drag the poor newborn (who already has the body of a grown man) like a rag doll, through a desolate landscape until he supposedly starts spewing out some of his organs. And this is just the beginning of a horrendous, surreal odyssey of pain, suffering, torture and death, that can be described as witnessing a painful fever nightmare from the subconscious mind of a strapped schizophrenic mental patient.
By reading the plot synopsis you learn that Begotten is an alternative retelling of The Book of Genesis, but without knowing this beforehand, one could easily assume watching an underground snuff film taken straight out from The Dark Web. The distinct, strong visuals is truly remarkable here, filmed in grainy black and white that sets the atmosphere from the very first frame. Shot on 16 mm on reverse-exposure, which is a picture effect you get on most digital cameras today, but back in the late 80's when this film was made with analog stone-age equipment, this was a real artistic achievement. Director E. Elias Merhige experimented like a mad scientist to get the exact, withered, aged look by using sandpaper to scratch up the reel before shooting. That wasn't good enough, however, and he used the rest of the budget of 33. 000 dollars to construct an optical printer during a long, tedious period of eight months. And each minute of footage generated by the printer took on average between eight and ten hours to complete. Phew, that's some real dedication and patience right there.
Some describe this as simple as a nightmare captured on film, and an extended version of the cursed VHS cassette from The Ring, which I can pretty much agree with. Certainly not for everyone, and as far away from mainstream you could probably get. But it's surely a uniquely deranged avant-garde filled horrific, nihilistic atmosphere with haunting images that will probably stick with your forever. This is also Marilyn Manson's personal favorite film, which made him so impressed that he hired director E Elias Merhige to direct the music video for Antichrist Superstar and Cryptorchid. Another guy who liked the film was Nicolas Cage, who hired him to direct Shadow of the Vampire for his newly established Saturn Films. A great, underrated movie, by the way. After his second Hollywood studio film "Suspect Zero", Merhige went back to the underground and made the short film "Din of Celestial Birds", which is considered an unofficial sequel to Begotten. His recent creation is a short called Polia and Blastema, a surreal love story about two alien creatures. And from the few previews I've seen, it looks completely mind-blowing.
An official, yet very limited DVD was released back in 2001 by World Artist, which included a souvenir booklet, the original theatrical trailer, rare and never-before-seen movie stills, and production photos. It's of course out of print, but can be found on eBay at different prices. It's also available on YouTube.

Director: E. Elias Merhige
Country & year: USA, 1989
Actors: Brian Salzberg, Donna Dempsey, Stephen Charles Barry, James Gandia, Daniel Harkins, Michael Phillips, Erik Slavin, Arthur Streeter, Adolfo Vargas, Garfield White
IMDb: www.imdb.com/title/tt0101420/