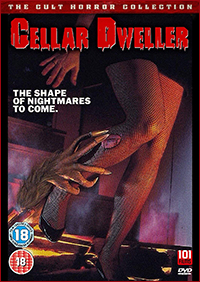 It's a dark and stormy night when comic book artist Colin Childress (Jeffrey Combs) works on his horror series Cellar Dweller. He sets his final drops of ink on a sequence where a young, half-naked damsel in distress runs through the woods and ends up trapped by a satanic, hairy monster. After Colin randomly quotes some obscure phrases from a book of witchcraft, he unconsciously manages to summon both the monster and the damsel who emerges right behind his back. While Herbert West..uhm, sorry, I mean Colin, runs frightened out of his studio, the monster kills the damsel off-screen. Since the monster was summoned from the drawing paper, Colin gets the brilliant idea to set the artwork on fire, which escalates into an inferno that kills them both. The rest of his artwork manage to survive, though.
Then, we jump 30 years ahead in time. Colin's house has now become an art institute, where young cartoonist Whitney Taylor checks in to continue the Cellar Dweller series. Miss Briggs, who manages the place, is not thrilled about this, and tells her that the basement where Colin died is a no-go zone. Of course, Whitney still goes down there anyway, and she comes across an old chest which includes the same book of witchcraft we saw at the beginning. The can of worms is open again, and as soon as Whitney starts drawing Cellar Dweller, a hairy monster begins to terrorize the house's students in the middle of the night. It's just too bad that the killings happen off-screen, and makes me wonder if the monster costume was so heavy for the poor person inside that he was almost unable to walk properly.
Jeffrey Combs is only featured in the opening scene before the film goes full amateur hour. To top it all off, one of the actors, Brian Robbins, has obviously used Smilex as he has the most absurdly, psychopathic grin that is just completely out of place, to a certain point where he almost overshadows the monster. A bit impressive, though. Aside from a quick decapitation scene during almost a full hour of play time, there is not much gore to find here. The drawings by the comic book artist, Frank Brunner, are gorgeous and got its time to shine, and is actually more impressive than the movie itself. John Carl Buechler (RIP) also directed Troll two years earlier, which explains some of the similarities. And if you haven't already, then check out Troll 2, and you'll have a perfect schlockfest of a trilogy to enjoy and laugh at.

Director: John Carl Buechler
Country & year: USA, 1988
Actors: Yvonne De Carlo, Debrah Farentino, Brian Robbins, Pamela Bellwood, Miranda Wilson, Vince Edwards, Jeffrey Combs, Floyd Levine, Michael Deak
IMDb: www.imdb.com/title/tt0094850/