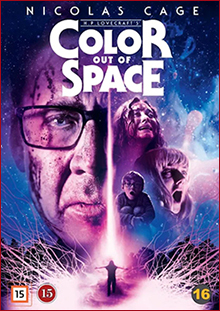 Nathan Gardener and his family moves to his late father's farm somewhere in rural New England, in the hopes of living a quiet life and escape the hustle and bustle of the city. Just when they start to settle in, a meteorite crashes into their yard which emits an otherworldly color (a color out of space). One of the children (Jack) is traumatized by the event, and seems to be affected in strange ways. He becomes obsessed with the well in the garden and claims he's got a "friend" there. Strange flowers and plants starts growing, animals suffer grotesque mutations, and the Gardener family's life transforms into a colorful nightmare.
Color Out of Space is based on a short story by H.P. Lovecraft. The director, Richard Stanley, last directed a film way back in 1992 (Dust Devil), so there was a 27 year pause until his comeback. Things didn't start out all that trouble-free, however, as the movie lacked funding when Stanley revealed the project in 2013. In 2015 it was announced that the production company SpectreVision would produce the film…but it was still delayed until 2018, around the time when Nicholas Cage was confirmed to play the leading role, and then the filming started in Portugal in 2019. Sometimes, things simply just take time. Stanley first stated that this is the first movie in a planned trilogy of Lovecraft adaptions (the next one supposed to be based on The Dunwich Horror). However, in March 2021 the trilogy was canceled after Stanley was accused of domestic abuse by his former partner Scarlett Amaris, and SpectreVision cut all relation with him.
Many of Lovecraft's stories have been made into film adaptions, some more successfully than others. And most of them have a varied love/hate reception…and this movie is no exception to that rule. And it isn't even the first time Color Out Of Space was adapted to the screen…there are actually as much as four earlier adaptions, including a 2010 German black & white adaption that's called Die Farbe aka Color Out of Space.
As this story was originally published in September 1927, and Stanley's movie adaption goes for a more modern take on things, there are some changes here and there. For those that have read the original Lovecraft story, you'll know that the color is described as one that humanity has never actually seen…but that is, of course, not really possible to portray in a movie unless it was made in black and white (like the German 2010 adaption). However, the purple-pink-ish color used here actually looks pretty good and makes for a highly visual and mesmerizing treat. It's a Lovecraftian snack-bag filled with goodies that can be enjoyed by many: visually wonderful, a dosage of some pretty good body horror moments, all mixed in with the classic cosmic terror and the fear of the unknown. That being said, I can understand why it's not tickling everyone's pickle as some people might be put off due to the changes, and others might find the humor in it a bit weird. Like with nearly every Lovecraft story that's been adapted to the screen, there's both love and hate for it.
Overall, I think Color out of Space is an entrancing surreal cosmic horror movie. Stanley is also a Lovecraft fan, so the film is filled with a nice handful of easter eggs that people who have read Lovecraft's other stories will recognize (like the daughter, whose name is Lavinia). And of course, it's always a pleasure to watch Nicholas Cage go bonkers in a horror movie.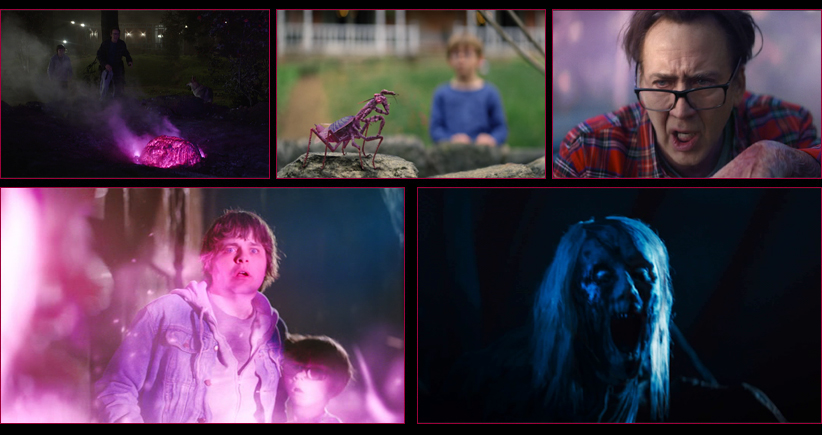 Director: Richard Stanley
Country & year: USA, Malaysia, Portugal, 2019
Actors: Nicolas Cage, Joely Richardson, Madeleine Arthur, Elliot Knight, Tommy Chong, Brendan Meyer, Julian Hilliard, Josh C. Waller, Q'orianka Kilcher, Melissa Nearman, Amanda Booth, Keith Harle
IMDb: www.imdb.com/title/tt5073642/