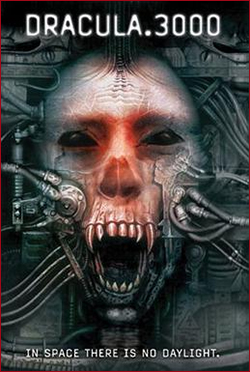 What does Jason, Pinhead, Leprechaun and Dracula have in common? They've been into space. And this has to be the worst of them all. Good grief.
We're in the year 3000 and get introduced to Captain Abraham Van Helsing (Casper Van Dien) and his small crew on a salvage space ship, looking for a large cargo ship named Dieter that has been missing for fifty years in the Carpathian Galaxy. And yes, we're talking about the outer space. They find the ship while it's heading towards Earth,  completely empty for crew, and they decide to take possession of all the valuable stuff. They soon learn that some spooky shit has been going on when they find the only dried-up corpse left on the ship's bridge, tied up with a crucifix in its hands. And oh man, this is unbelievably bad: it looks like they just bought the cheapest Halloween skeleton they could find and dressed it up, and God knows what went through the actors' heads when they had to act serious when they saw it. They find a video log from fifty years ago, of a frightened Captain Varna (Udo Kier) who says that he locked himself in his cabin after some pandemic infected the crew after they cargoed a bunch of coffins in the Transilvanian station. And you can never guess who's lurking among them on the ship: It's the new variant Nekronomicron! Just kidding. It's Dracula. Of course.
The first crewmember to get bit is 187. That's not his IQ, it's his name. He's a goofy, stereotypical manic crack smoker and is played by none other than the 90s rapper star Coolio. And as ridiculous as he is with his hysterical overacting, at least he seems to have some fun playing a vampire from Da Hood while flashing his fangs as much as possible. The B-movie actor Casper Van Dien, known from Starship Troopers and  a laundry list of straight-to-videos, seems to really have a hard time keeping himself awake as he yawns out most of his dialogues like he couldn't give a single fuck about anything other than his paycheck. And who can blame him when you have to read lines like this while doing your best to keep a straight face:
– Transilvania? What the fuck is Transilvania?
– Transilvania is a planet in the remote Carpathian System. It's a.. uhm.. it's a planet of vampires!
– Vampire?? So what the hell is a vampire?
– It's sorta like a man … only far more evil, if you could imagine that.
– All that bloodsuckin', that's some white people shit!
– I want to watch my anaconda spit all over your snow white ass.
And we have classic lines such as:
– I put up for your shit cuz you're black and… ugly.
– I have to go to the bathroom! I really do!
– I… AM A VAMPAIAHH!!!
– Dude!
– Bro!
Captain Van Helsing also learns that he is related to a certain another Van Helsing from the late 1800s, and that Dracula is on his way to Earth to seek revenge. And prepare yourself for the most pathetic Dracula ever put on screen. He's just some teenager dressed as Dracula, and is as charismatic as an average high school douchebag and as intimidating as Hello Kitty. There's a scene where he attacks the blond chick among the crewmembers, and she really struggles to look scared and not to chuckle.
And other than that, Dracula 3000 looks like something you would find at the bottom at the barrel of the SyFy or Asylum Films catalogue, but even they would be too embarrassed to release this half-assed turkey. It also had a spot on the IMDb Bottom 100 list at one time, and that pretty much says it all. But, yeah, there's a good amount of laughs to get from this if you're weak for shitty and unintentionally funny films, in this case most thanks to Coolio and the string of quoteworthy dialogues.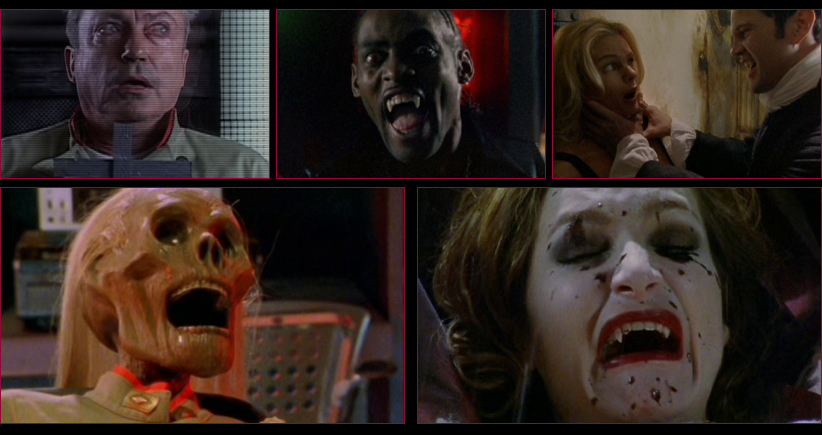 Directors: Darrell Roodt
Country & year: Germany, South Africa 2004
Actors: Casper Van Dien, Erika Eleniak, Coolio, Alexandra Kamp, Grant Swanby, Langley Kirkwood, Tom Lister Jr., Udo Kier
IMDb: www.imdb.com/title/tt0367677/