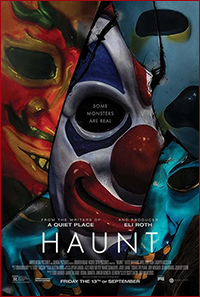 It is Halloween, but Harper isn't really in the mood for a scary celebration as she is already struggling with a real fright in her life: an abusive boyfriend who keeps sending her angry text messages. However, her friends are determined to have a fun night out and enjoy themselves, so she covers her black eye with make-up and they all head over to a costume party. They meet up with two other guys, and the six of them ends up looking for a haunted house attraction in order to make their Halloween night complete. Very much on random, they encounter the sign for such an attraction on a lonely country road, and decide to check it out. Upon entering this Haunted House attraction, they're forced to leave their cellphones and have to sign liability waivers (which probably sounds like big red flags right there for our naive protagonists, but in real life there are such attractions that actually requires you to sign liability waivers before entering. Like for example McKamey Manor, which requires a 40-page waiver before you're allowed inside). They do as they're told, and is shown some rather mainstream horror effects upon entering…until they suddenly witness a scene where a "witch" is branding a girl with a red-hot poker (which they of course think is just an act). From there on things start going more and more wrong, and the attraction goes from fun to deadly in no time.
Haunt is a "haunted house attraction" horror movie, a little bit in the same vein as Hell Fest. With the writers of A Quiet Place as directors and Eli Roth as producer, it certainly did sound like something that could be both suspenseful and gory. And you see quite early in the movie that there is a lot to appreciate here: the cinematography is quite eye-candy, and there is a lot of claustrophobic atmosphere once our protagonists enters the Haunt. There are some rather interesting characters who are inhabiting the place: people in several costumes, wearing masks and behaving in creepy ways which makes you wonder who, or what, they really are…
Now, while Haunt manages to pack in a good amount of suspense, it feels like there is a little bit of lost potential here where the actual killing scenes felt very toned down…especially with one of the kings of gore (Eli Roth) being the producer and all. The killing scenes come and go rather rapidly, some of them even proceeding to the next scene so fast that you're barely able to get a glimpse of what really happened. The movie doesn't dilly-dally with its audience though, or try to be "smart"…instead, it delivers a straight forward slasher where teens are killed because they make dumb decisions and freaks are murderous because…well, because they're freaks, I guess.
However, despite not being the most memorable movie in the genre, Haunt was a fun ride all in all!

Directors: Scott Beck, Bryan Woods
Country & year: USA, 2019
Actors: Katie Stevens, Will Brittain, Lauryn Alisa McClain, Andrew Caldwell, Shazi Raja, Schuyler Helford, Phillip Johnson Richardson, Chaney Morrow, Justin Marxen, Terri Partyka, Justin Rose, Damian Maffei, Schuyler White, Samuel Hunt, Karra Rae Robinson
IMDb: www.imdb.com/title/tt6535880/