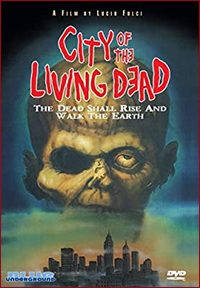 City of the Living Dead is the first part of the Lucio Fulci Gates of Hell trilogy, which followed up with The Beyond and House By the Cemetery. But apart from sharing the theme of the dead being brought to life, with some small doses of inspiration from H.P Lovecraft and with actress Catriona MacColl starring in all three, they work well as separate films.
The film starts at a cemetery in the small town of Dunwich where a priest hangs himself, and reappears as an evil deathstaring zombie. At the same time, Mary Woodhouse (Catriona MacColl) witnesses a New York apartment suicide during a vision under a seance, which scares her to death. Yes, literally to death. And why, you might ask? Well, because his act of sin causes all the dead in the cemetery of Dunwich to rise from the dead as zombies. And these are not the traditional carnivorous zombies…here, they have the ability to teleport themselves and use telekinesis to make people bleed tears and spew up their own inner organs. Miss Woodhouse's death is seen as a mysterious case, which captures the curiosity of newspaper journalist Peter Bell (Christopher George). The day she is to be buried, he sneaks around the cemetery when she suddenly comes alive in the coffin and screams. Peter hacks up the coffin to save her, but unlike the ordinary dead who resurrects as zombies, Mary wakes up like from a normal night's sleep and is straight back into her old self again. Well, good for her. After they learn that the gates of hell must be closed and this evil priest must be stopped, they take a roadtrip to Dunwich. And this must happen before All Saint's Day. If not, the dead will take over the world.
Meanwhile, the evil priest has already started terrorizing Dunwich, while rubbing mud filled with worms in peoples faces as he teleports around the city. While strange and macabre things continue to happen in the city, a group of men sit in the local pub, suspecting Bob, the city's outcast who has a taste for inflatable sex dolls, to be behind all of this. And this side plot with Bob (Giovanni Lombardo Radice) is completely useless which is nothing but filler scenes that could easily have been cut out. Even though City of the Living Dead doesn't work all that well with its serious pacing issues, the film has some great ghoulish atmosphere with a fitting soundtrack by Fabio Frizzi, who's scored several of Fulci's films. There's also several memorable gory scenes to enjoy, and some of the actors were dedicated enough to get isolated in a room to be attacked by ten kilos of maggots via two wind machines. Trivia: one of the crew members decided to pull a prank on Mr. Fulci by stuffing some of the maggots in his pipe tobacco. Everyone but Fulci found it funny and he blamed the incident on the heart surgery he had years later with health problems that escalated to ventricular aneurysm, contracted viral hepatitis and liver cirrhosis. No more maggots on set, I guess. And of course don't forget the drinking game: take a shot every time there's a close-up of the actors eyes, and you'll surely die of alcohol poisoning before the first twenty minutes. In advance, rest in peace.

Director: Lucio Fulci
Original title: Paura nella città dei morti viventi
Country & year: Italy, 1980
Actors: Christopher George, Catriona MacColl, Carlo De Mejo, Antonella Interlenghi, Giovanni Lombardo Radice, Daniela Doria, Fabrizio Jovine, Luca Venantini, Michele Soavi, Venantino Venantini, Enzo D'Ausilio, Adelaide Aste, Luciano Rossi, Robert Sampson, Janet Agren
IMDb: www.imdb.com/title/tt0081318/

Related posts: The Beyond (1981) | The House by the Cemetery (1981)