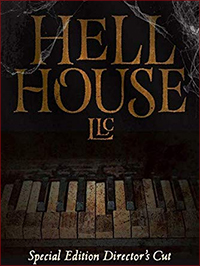 "Hell House LLC" starts with some news-clips where we learn that an abandoned hotel, which has been transformed into a haunted house tour in a small town outside New York, ended in disaster on 8th October 2009. Several people were killed and injured, and nobody knows what really happened, but the police vaguely blames the outburst on a major malfunction. With the suspicion that the police are holding back some info from the public, it creates conspiracy theories among some local journalists who starts their own investigation. They get in contact with one of Hell House's crew members, Sarah, who gives them all the raw footage that documents the whole process which spans from August 23rd to October 8th. When she is asked why she hasn't turned this over to the police, she simply says "you'll see". Alright, so let's take a look.
We get introduced to these four crew members who just arrives at Hotel Abaddon and starts to explore its environments and settles in, and decides to stay for the night. The days go by, and they're installing the electricity, making the effects and props ready, and everything seems to go as planned, until weird shit starts to happen. Doors are opening and closing by themselves, and from one of the static cams we see a glimpse of an obscure person walking around wearing something that looks like a grim reaper-cape. Boo. When they start hiring local actors to the attraction, one of them reveals that the hotel has a dark past and the rumors are saying that the previous owner hanged himself in the hotel's dining room. And as if that wasn't bad enough, the crew hears more unsettling stories based in the hotel's past, and even satanic rituals are mentioned. And just to top that, the hotel is named after a demon from The Book of Revelation known as The Angel of Death. The name Abaddon, which also means ruin, death, desolation, and destruction. Yay. Nothing bad could ever happen here, so just enjoy your stay, and if you survive, please give us a positive review at Yelp…
Haunted house attractions are clearly a huge business in USA, where 35 million people around the states are visiting them in October each year to get a great scare (hey, that rhymed). And of course, this concept also makes great set-up for a horror-movie or two. Besides of this we have "The Houses that October Built" which is a more like a half-documentary done in Borat-style where they travel from different states to explore and get a unique insight to the community. Even though Hell House LLC was actually shot in a real haunted house attraction called Haunting at the Waldorf Hotel, it was only used as location with the fictitious title Abaddon Hotel.
It's not uncommon to put on a found footage horror and expect the worst. How many films like this haven't been spewed out like cheap burgers to be either total lackluster or forgotten trash, in the hopes of becoming the next Blair Witch or Paranormal Activity? But sometimes, if you really dig in the found footage-jungle, there's some gold to find. And what a pleasant surprise Hell House LLC was. Writer and director Stephen Cognetti does a pretty steady job combining the documentary and found footage-style, while the horror itself relies mostly on the psychological and the atmosphere. The hotel's dark backstory and lore are also intriguing and is spicing up the mood, not to mention the creepy decorations hanging around that adds to the atmosphere. This is overall a very well made horror flick with great acting, and a tension that builds up to the finale."Hell House LLC" is  probably on the same level as "Grave Encounters" (2011), another found footage film that really knew how to use the format.
The Sequel "Hell House LLC II: The Abaddon Hotel" was released on the streaming service shudder.com. It's also available from other sources, but since we live in Norway we haven't actually found any place where we can watch it (yet) as Shudder is not available here, and the other sources are region locked and mostly only available in USA or UK. Bummer. As we currently speak, the third installment is being filmed, called "Hell House LLC III: Lake of Fire". So when comes the Hell House Trilogy Box-Set? We just have to wait and see, I guess…we currently own "Hell House LLC" on dvd, and so far it looks like the only other option for us to check out the other movies is to wait (and hope for) a dvd release when the third film is finished.

Director: Stephen Cognetti
Country & year: USA, 2015
Actors: Gore Abrams, Alice Bahlke, Danny Bellini, Theodore Bouloukos, Natalie Gee, Jared Hacker, Phil Hess, Ryan Jennifer Jones, Lauren A. Kennedy, Jeb Kreager, Miranda Robbins, Adam Schneider, Kristin Michelle Taylor
IMDb: www.imdb.com/title/tt4267026/