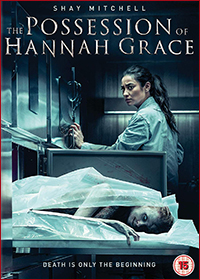 Megan is an ex-cop that's just gotten out of rehab, and struggles to get back on her feet again. She applies for a job working the graveyard shift at the morgue (yeah…not exactly the best place to be if you're a previous drug addict and struggling with trauma). She gets the job, and soon thereafter the disfigured corpse of a girl arrives. It doesn't take long until weird things start happening at the morgue, but Megan tries to convince herself it's her frazzled mind that makes her see things. Until things become too real for her and she realizes there's something very wrong with that corpse.
Horror movies based on possessed people and exorcisms rarely bring anything new to the screen, so when checking this movie out, we didn't really expect anything groundbreaking or new here. The movie starts with an exorcism scene that brings us many of the used-to-death clichè's: possessed girl talking with deep male voice: check. Possessed girl making things levitate: check. Possessed girl making typical demon-grins and exaggerated facial expressions: check. The movie starting out this way does give it an unfortunate amount of predictability since we already know what's wrong with her corpse (unlike for example "The Autopsy of Jane Doe", which keeps us wondering why/what/how). The possessed girl (Hannah) does get a little bit too much at times and becomes somewhat goofy rather than actually scary.
With that being said, "The Possession of Hannah Grace" does have some creepy moments, and it does bring an interesting twist on the possession genre: will a demon really stop by just killing its vessel? Or can it possess the corpse and thus become even more menacing? It's a good concept for a possession horror movie, so in that regard it actually does bring us something new (or at least, a tiny variation of a tale told numerous times). The movie could have benefited from making Hannah more of a mystery from the start, though, in order to prevent all the predictability. But all in all it's an okay horror flick to watch.

Director: Diederik Van Rooijen
Country & year: USA, 2018
Actors: Shay Mitchell, Grey Damon, Kirby Johnson, Nick Thune, Louis Herthum, Stana Katic, Maximillian McNamara, Jacob Ming-Trent, James A. Watson Jr., Marianne Bayard, Adrian M. Mompoint
IMDb: www.imdb.com/title/tt5734576/