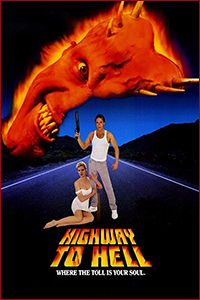 Charlie (Chad Lowe) and his girlfriend Rachel (Kristy Swanson) is on their way to Las Vegas to get married. On the road they take a detour and stop by a gas station, where the owner Sam warns them about two Joshua trees and not driving while falling asleep… eh, okay, thanks for the warning. Bye. While they drive past one of the aforementioned Joshua trees, they're pulled over by a police car. Little do they know that they'll encounter the notorious Sgt. Bedlam Hellcop: a scarred big dude with some obscure biblical text inscribed on his face, who kidnaps young virgins to take them to Hell and hands them over to Satan.
After Charlie's girlfriend is taken to Hell, our old gasoline man Sam tells Charlie that a group of virgins have been kidnapped by The Sergeant aka Hellcop, one of them whom he was planning to marry himself. Since then he settled down by the road with his "Sam's Last Chance Gas Station", in order to dedicate the rest of his life to warn others. At least those who'd be crazy enough to believe him. Sam gives Charlie a shotgun and his old vintage car, that has a magical ability to enter the portals of Hell.  However, if he's not back in 24 hours he'll be stuck in Hell forever. Best of luck.
Highway to Hell is a small, obscure film written by Brian Helgeland who's known for The Postman, L.A. Confidential and A Nightmare on Elm Street 4: The Dream Master. A prominent screenwriter who is one of the most successful in Hollywood who still keeps going today. This movie had a distribution deal with Hemdale Films, which had titles as The Terminator, Platoon and Return of the Living Dead in its catalogue. The newcomer Ate De Young from Netherlands is directing his first American film, and wanted the film to look as American as possible. The funny thing is, for some reason I always assumed that Highway to Hell was filmed in the Australian deserts since there's Mad Max-vibes are all over the place. And mixed with some quirky underworld-fantasy elements that could be taken straight out from Beetlejuice, the film has an imaginative and slightly surreal universe with a lot of funny moments and great ideas.
I especially like the concept with all of the corrupt police officers who have to spend all their eternity in a small, dusty doughnut diner, where none of them are ever allowed to have any coffee or doughnut, while the sassy waitress is laughing in their face. There's also a bunch of cameos popping up, and the whole Stiller-family can be seen here. A young an unknown Ben Stiller plays a wacky cook, Amy Stiller as Cleopatra and their parents Frank Stiller and Anne Meara also says hello. How cute. Gilbert Gottfried also shows up as a dementia-suffering and not-so-convincing Adolf Hitler, and the ex-guitarist from The Runaways, Lita Ford, as a hitchhiker.
The most interesting character of all is Sergeant Bedlam Hellcop played by C.J. Graham who developed a claustrophobia during the filming that became so severe that he couldn't be in his make-up for more than two hours. I wish there was some more backstory on him, though, and it would have been interesting to see him in a spin off-film (Hellcop vs. Maniac Cop could have been cool).  However, Highway to Hell isn't as awesome as I remembered it from watching it repeatedly on VHS in the 90s. The ending is pretty anticlimactic and dull, which gives an impression of studio interference going on. Still, it's a fun, lighthearted and entertaining ride for the whole family to enjoy.
HorrorNews.Net called it "one of the greatest campy horror films to never arrive on DVD", and was so hard to find at one point that the director  had to do the shameful act and torrent it just to get a copy himself. Hemdale Company was also on the verge of bankruptcy during the making of this film, which caused it to collect dust on the shelf for one year until it finally got screened in only eight cinemas, and flopped spectacularly. Ouch. It later found a bigger audience at Home Video and became a cult film over the years. Ate De Jong made his second and last American movie with the comedy Drop Dead Fred before he dropped back to Europe to continue his directing career. In 2016, Highway to Hell was finally released on DVD and Blu-ray, with a director-commentary track.

Director: Ate De Jong
Country & year: USA, 1991
Actors: Patrick Bergin, Adam Storke, Chad Lowe, Kristy Swanson, Pamela Gidley, Jarrett Lennon, C.J. Graham, Richard Farnsworth, Lita Ford, Gilbert Gottfried, Anne Meara, Rags, Amy Stiller, Ben Stiller, Jerry Stiller
IMDb: www.imdb.com/title/tt0104418/