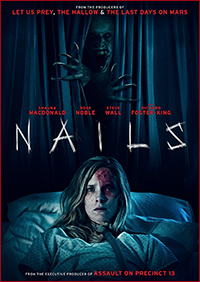 Dana is going out for a run, but what should have been a normal morning ends with disaster when she is hit by a car and winds up confined to a hospital bed. Bruised and broken, with a breathing tube down her neck, no ability to speak (she must use a "speak and spell" device in order to communicate), and no ability to move, she's totally helpless. And then, when things couldn't possibly get any worse, what appears to be a malevolent spirit starts haunting her hospital room, and tries to kill her. When everyone believes she's just having a mental breakdown, Dana struggles to find out who the spirit is, and why it is haunting her.
Nails is a supernatural horror flick starring Shauna Macdonald (known for The Descent). She is doing a solid performance as the broken and bed-ridden patient, and the concept is not bad. The hospital is creepy and atmospheric, and the idea of a spirit residing there is a good mix of ingredients to make a decent supernatural horror film. And it starts off rather well, building up tension and atmosphere as we see Dana struggle in her hospital bed, limited and vulnerable. When she starts experiencing the spirit's malevolence, no one believes her (of course), and in the totally helpless situation she's in we're curious how it will all unfold. The movie also decides to try spicing up the tension a bit more with throwing some marital problems at Dana when she's already struggling enough as it is.
Unfortunately, the movie fails a bit when it comes to be most important aspect of a horror movie featuring a ghost, and that is the ghost itself ("Nails"). While the idea behind him and his actions are quite good, we're seeing way too much of him for him to actually be scary. There's close-ups galore of his zombie-like face, and in the end he feels more like a generic enemy in a horror game. Which is really sad, because this character did indeed have a lot of potential to be quite creepy if he had just been left a lot more in the shadows.
The pacing stumbles a bit once we've established that Dana is, indeed, haunted by a spirit and that Nails is not just a result of her distressed mind. Thus, you may find yourself getting a bit impatient during the rest of the movie. Overall, Nails has a lot of potential that it unfortunately doesn't manage to utilize, but it still delivers a certain amount of suspense and creepy atmosphere.

Director: Dennis Bartok
Country & year: Ireland, 2017
Actors: Shauna Macdonald, Steve Wall, Leah McNamara, Ross Noble, Richard Foster-King, Robert O'Mahoney, Charlotte Bradley, Muireann D'Arcy, Veronica O'Reilly, Conor Scott, Trish Groves, Eileen Doyle
IMDb: www.imdb.com/title/tt4695098/