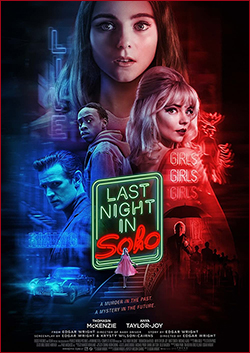 Young Ellie is totally in love with the music and fashion from the swinging sixties, and also has a dream of becoming a fashion designer. She also has a gift: she can see ghosts and things that happened in the past, and she frequently sees the ghost her own mother (who killed herself when Ellie was a child). When Ellie gets the chance to study at the London College of Fashion, her grandmother is both happy and worried for her. Ellie, full of hopes and dreams for her future, moves to London but has trouble fitting in with the other students, and especially her bitchy roommate Jocasta. Unhappy with her current residence, she decides to rent a place in Goodge Place, owned by an elderly lady called Ms Collins.
On the very first night there, Ellie has a very vivid dream where she is in the 1960's, at the Café de Paris. Experiencing things through the eyes of a beautiful blonde woman named Sandie, Ellie becomes mesmerized with her and even goes as far as dyeing her hair blonde and changing her fashion style to match Sandie's. During her dreams (visions) of Sandie's life during the 60's, things take a turn when Sandie ends up living a very different life from what she as aiming for.
Last Night in Soho is directed by Edgar Wright, an English director previously known for Shaun of the Dead (2004) and a mix of movies in many other genres (like for example Scott Pilgrim vs. the World). In the leading roles we find Thomasin McKenzie as Ellie (Old) and Anya Taylor-Joy as Sandie (The Witch). The result is an enchanting story about a girl feeling nostalgic over the dazzling 60s who ends up getting another taste of that decade than she expected.
Nostalgia is a strange little thing. We can find ourselves longing back to the past, mainly focusing and remembering the good things about it and blocking out the bad, glorifying it into something it not necessarily was. Personally, I also find myself taken by "older times", which had architecture that I find considerably more favorable than a lot of what is being built today. I also long back to the time when music had an actual melody you could hum to, when movies had their own theme songs that was memorable and enjoyable, when 2D animated features was still a thing (it seems to be getting a bit of a comeback these days, though), etc. And yes, now I sound like one of those typical old grannies that complains about how "everything was better before!"…but of course, while one may long for certain things from the past, we all know that not everything was necessarily all that great as a whole. Like Ellie, who is being so taken by a decade she didn't even grow up in, glamorizing it by focusing on the parts she loves: the music and the fashion, while simultaneously getting her nostalgic views of the 60s cracking into pieces as her visions of Sandie's past shows her that not everything was necessarily that wonderful after all. Her old landlady Ms Collins (played by Diana Riggs, who passed away in 2020) appears to be a bit baffled as to why Ellie is so smitten with a decade that is her own time rather than Ellie's, and Ellie starts explaining why she loves it so much. The old landlady simply nods a little and agrees that "the music was better". In other words: hinting that the decade may not have been just as good as Ellie has pictured it in her own mind.
Speaking of the music: I have to think the music usage in this movie is part of what makes it such a gripping experience. Together with the expressive colors, the music just puts a cherry or ten on top of the whole thing, using some of the 60's songs in a great way. For example You're my World, being played two times during the movie (first the original performed by Cilla Black, and a wonderful rendition sung by Anya Talor-Joy (Sandie) herself during a dramatically dazzling scene in the final parts of the movie). There's also a scene with Sandie Shaw's Puppet on a String, which was UK's entry to the Eurovision Song Contest in 1967 (and won), which is using the song's rather playful and jolly tone to portray something that isn't….quite so jolly. There's a lot more, of course, and I have to admit it's been quite a while since I watched a movie (on the big screen) that had both visuals and a soundtrack so enchanting!
Overall, we both truly enjoyed Last Night in Soho. It's a movie that has both style and substance, with a little bit of Suspiria and Dario Argento, and a good dash of the Swinging Sixties. Also, the movie was filmed on location in London, so that's another plus from me (yeah…there was a time when movies were filmed on actual locations and not just in a green screen room. Imagine that!)



Director: Edgar Wright
Country & year: UK, 2021
Actors: Thomasin McKenzie, Aimee Cassettari, Rita Tushingham, Colin Mace, Michael Ajao, Synnove Karlsen, Jessie Mei Li, Kassius Nelson, Rebecca Harrod
Alan Mahon, Connor Calland, Pauline McLynn, Josh Zaré, Terence Stamp
IMDb: www.imdb.com/title/tt9639470/