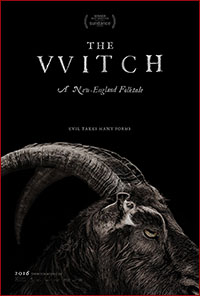 «The Witch» , or «The VVitch: A New England Folktale» takes place in the 17th century in New England, where the poor family man William is banned from a Puritan plantation together with his wife and four kids. They settle in a small worn farm in an isolated nobody's land, in hopes of making their lives go on. Then creepy things start to happen. It turns out that a witch lives nearby, a witch who likes to kidnap young children.
«The Witch» was a big talk back when it was shown on Sundance, and it achieved cult status pretty much overnight. This is not the kind of movie for those who are looking for jump scares, fast editing, fast-paced horror-action and stuff like that. «The Witch» is a slow burner, where the horror elements is shown on a very subtile level. The psychological aspects and build-up of tension is what defines this movie.
The directing by Robert Eggers, who also wrote it, is amazing. It reminds me of Stanley Kubrick's works, with its long takes and the wide shots. The grim atmosphere is all over the place, the forest landscapes are pretty grim and the feeling of plain dread and despair is everywhere. Thanks to great acting you also feel for the family and what they're going through.
All in all, a suspenseful little film with the most refreshing endings I've seen in these types of horror movies in years.

Director: Robert Eggers
Country & year: UK / Canada / USA, 2015
Actors: Anya Taylor-Joy, Ralph Ineson, Kate Dickie, Harvey Scrimshaw, Ellie Grainger, Lucas Dawson, Julian Richings,
IMDb: www.imdb.com/title/tt4263482/