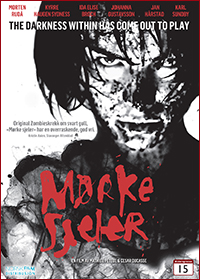 During a morning jog through the woods, the teenager Johanna is attacked by a guy in an orange dress, who is wearing goggles and a mask. After a quick chase with some running and stumbling, he drills a hole in her head, and then places some black goo in her brain. Despite having been pronounced dead, the murder victim suddenly wakes up in the morgue and goes back home to her father: the music teacher Morten Ravn. But Johanna is not at all the same girl, but has been reduced to a disoriented, apathetic lifeless shell with a blank stare. In the meantime, more and more victims are being reported, all of whom come to life again with the same symptoms. Since the police are just a bunch of incompetent fools, Morten decides to investigate the mystery himself, uncovering an apocalyptic conspiracy that revolves around a large oil company.
Mørke Sjeler (Dark Souls) was the passion project of two French guys, César Ducasse and Mathieu Peteul, with the intention of creating a Norwegian satirical zombie-comedy. And the result was a stumbling, amateurish, hopeless little trainwreck that looks more like a cheap student film. The acting is goofy, bad and just absurd. Karl Sundby (rest in peace), who was a profiled, seasoned and professional actor in little Norway, is surprisingly giving us the most memorable scene in this movie as a homeless hobo.
The directors promoted this as a comedy, as mentioned. And yes, it's a comedy for sure, and has some entertainment value, but not in the intentional way in the slightest. The weird tone is all over the place, which makes it impossible to separate the "satire" elements from the seriousness. Sloppy camera work, with lazy, uninspired killing scenes that happens mostly off-screen, which makes it look like there was not enough budget to hire a single competent makeup artist on set. In other words: this doesn't impress much. The zombie growls sound like pigs squealing. I'm sorry, but that's just pathetic. It took three years to shoot this film, but it feels far more like something done in a short week, all in one, quick take, Ed Wood-style.
Mørke Sjeler is distributed in the US by Lions Gate, and in Germany under the titles Dark Souls and Zombie Driller Killer. It also found its way to France and Japan.

Director: César Ducasse, Mathieu Peteul
Country & year: Norway | France, 2010
Actors: Johanna Gustavsson, Kristian Holter, Ida Elise Broch, Morten Rudå, Kyrre Haugen Sydness, Lise Froyland, David Hernandez, Christopher Angus Campbell, Bård Eirk Nilsson, Trine Dürbeck, Eirik Halvorsen, Kristine Braaten, Marianne Rødje, Jan Hårstad, Henrik Scheele
IMDb: www.imdb.com/title/tt1617145/