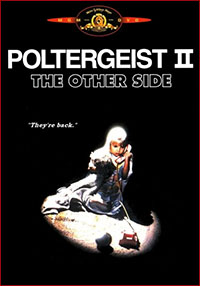 After losing the house, Steven also lost his job and the family is now completely broke, thus they have moved into Diane's mother's house. It's hard times, but they do all they can to live a normal life. One day a mysterious old man named Kane, a creepy looking reverend, shows up in their life. And he is especially interested in Carol Anne.
The same actors are back, except the one who played Dana, who became the first victim of the so-called "Poltergeist curse", which I will not go into here. Jerry Goldsmith composes a lot more dark and sinister soundtrack that enhance the atmosphere. But the one who steals the show here is the eccentric actor Julian Beck as Reverend Henry Kane. He completely owns the few scenes he's in and really gets under your skin. Despite his little screentime he became such a horror icon that the thrash metal band Anthrax depicted him on the cover of «Among The Living». Unfortunately, he died of stomach cancer before the film was finished shooting. Due to this, a final sequence had to be completely rewritten.
Not the best sequel, it feels pretty unnecessary to be honest, but is still a fun watch with some great practical effects, some scary moments, great atmosphere and brilliant soundtrack.

Director: Brian Gibson
Country & year: USA, 1986
Actors: JoBeth Williams, Craig T. Nelson, Heather O'Rourke, Oliver Robins, Zelda Rubinstein, Will Sampson, Julian Beck, Geraldine Fitzgerald
IMDb: //www.imdb.com/title/tt0091778/
Sequel of:
Poltergeist (1982) //horrorghouls.com/reviews/poltergeist-1982/