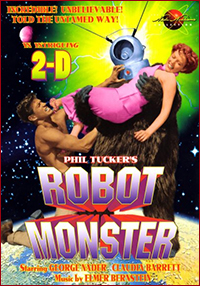 We are in a distant future where the world's population has been completely annihilated by Ro-man's Death-Ray. Ro-man who? He's an evil alien in a gorilla suit, face covered with a diving helmet with to antennas attached to it. But there are eight survivors left, a family which Ro-man is able to communicate with through a … bubble machine. And he wants their location so Ro-man can finish his mission. Or else …
And no, this is not an Ed Wood movie, by the way, which it easily could have been. Phil Tucker was a young, fresh independent film-maker in his mid-twenties who was about to make his second film, with a script from Wyott Ordung and distributed by Astor Pictures. Robot Monster was shot in only four (yes, 4), quick days outside of Hollywood, with the entrance of the famous Bronson Canyon as the main location and a shameless use of stock footage from several other sci-fi movies as effects. Tucker hired a friend to play Ro-Man who also made his own gorilla suit, while he was dubbed with a deep, baritone voice (not by James Earl Jones). And The result , of its short runtime of 62 minutes, is an ultra-cheap, lazy and utterly ridiculous turkey of a campy schlock-fest, in which none other than Phil Tucker took seriously.
Despite the film getting panned and mocked, just as it deserved, it actually managed to make money and gross a million at the box-office, more than 62 times its original budget of $16,000. I bet Ed Wood must have been jealous. But this wasn't any win for Phil Tucker, however, as Astor Pictures refused to pay him. The combination of being totally fucked over by the distributor and Tucker being mocked by critics due to Robot Monster, and not being able to make his breakthrough into Hollywood, he tried to end his life by blowing his brains out. But in pure Phil Tucker fashion, he missed, and continued to work in the movie industry with low-budget films until his death in 1985.
The star of this film is Ro-Man himself with his cheesy gorilla-suit, diving-helmet and his absurd bubble-machine. He also has some really great quote-worthy lines such as: "What are you doing alone, girl-child?", "You sound like a hu-man, not a Ro-Man", "The hu-man-woman is the bringer of hu-man life, there must be an end to your race", "Now I will kill you"… And that deep and serious, misplaced tone of Ro-Man just amplifies the goofyness up to eleven. It's something straight out from Spaceballs, really. And you're able to see the actor's face behind that helmet. The only redeeming quality here, is the pompous soundtrack by Elmer Bernestein, who later scored films such as The Ten Commandments, Airplane!, Ghostbusters, Heavy Metal and numerous others. Robot Monster was originally planned to be filmed in 3-D, which is pretty hard to believe. But now you can at least enjoy it in its full glory and intriguing 2-D.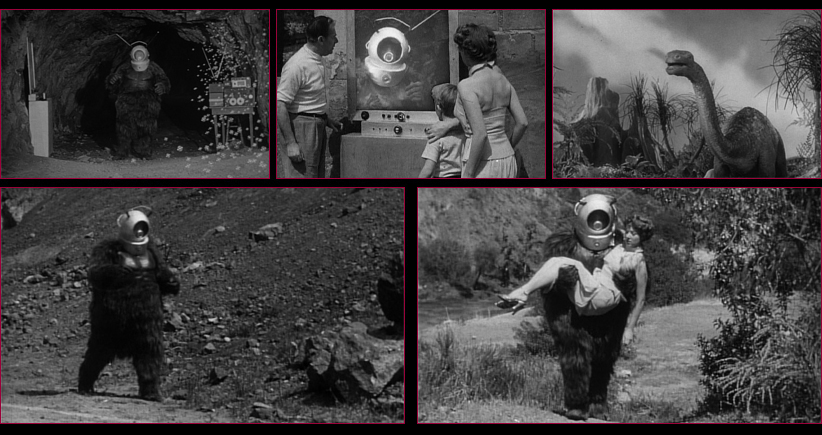 Director: Phil Tucker
Country & year: USA, 1953
Actors: George Nader, Claudia Barrett, Selena Royle, John Mylong, Gregory Moffett, Pamela Paulson, George Barrows
IMDb: //www.imdb.com/title/tt0046248/