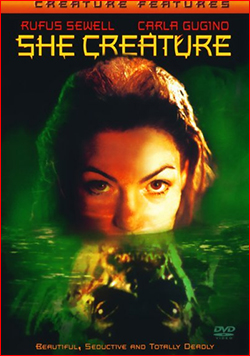 We're in Ireland, and the year is 1905. Two carnies, Angus Shaw and his infertile wife Lily, runs a fake mermaid show where Lily plays the role of a beautiful and enchanting mermaid. One evening, during one of their shows, a mysterious fellow named Mr. Woolrich appears and privately calls them out on their act, while at the same time appearing strangely relieved that Lily was, in fact, not a real mermaid. They offer him a ride home, where it's revealed that he's got a mermaid captured. A real one. Naturally, Angus wants to use this creature as part of the freak show, but Woolrich strongly warns against it. Not easily deterred, Angus later brings a few colleagues back with him to abduct the mermaid, and smuggles her aboard a ship in order to take her to America. Lily tries to object to this idea, but to no avail. And onboard the ship, the mermaid soon reveals her darker side…
She Creature is a 2001 made-for-TV horror film, directed by Sebastian Gutierrez (the title of this film was originally Mermaid Chronicles Part 1: She Creature, but there was never any part 2). It's the first in a Cinemax film series called "Creature Features", which were all paying tribute to the films of American International Pictures, where the titles are reused without being actual remakes. In this case, the title is borrowed from the 1956 film The She-Creature.
She Creature was shot in 18 days, and is a typical B-budget movie . It's filmed in a style that resembles the old monster movies, and with taking place in the Victorian era there's also some really atmospheric cinematography reminiscent of the old Hammer films. With the renowned Stan Winston as producer it also should come as no surprise that the special effects are pretty decent. The mermaid is also portrayed in a rather convincing way, possibly much due to the fake mermaid we witness early on at the freak show. The mermaid Lily plays there is so obviously over-the-top fake, that when we get to witness the real mermaid in a tank of water the contrast makes it come off as believable. The real mermaid does not sing, she does not talk (except from making a few sounds), and appear more like an intelligent animal with human features rather than any "little mermaid" by Hans Christian Andersen. This is no Ariel, that's for sure…
Much of the atmosphere comes from the Victorian scenery and settings, fitting like hand in glove when constructing a horror tale with a blend of fantasy and gothic mystery. She Creature is by no means any masterpiece, but it's a fun and slightly cheesy little throwback to the monster movie era with moody cinematography, good production design and some really cool CGI-free special effects. Overall, it makes for a pleasant little pearl of a gothic and aquatic creature feature film.



Writer and director: Sebastian Gutierrez
Also known as: Mermaid Chronicles Part 1: She Creature
Country & year: USA, 2001
Actors: Rufus Sewell, Carla Gugino, Jim Piddock, Reno Wilson, Mark Aiken, Fintan McKeown, Aubrey Morris, Gil Bellows, Rya Kihlstedt, Hannah Sim, Jon Sklaroff
IMDb: www.imdb.com/title/tt0274659/