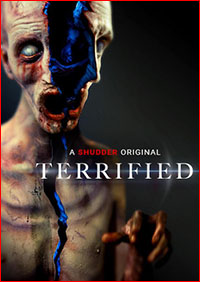 When strange events occur in a neighborhood in Buenos Aires, a doctor specializing in the paranormal, her colleague, and an ex police officer decide to investigate further.
I first heard about this movie from "Shudder", a streaming site dedicated to horror, which is unfortunately not available in our country (it's currently only available in the US (and its territories), Canada, UK, and Ireland). Being quite curious due to all the praise it's gotten from various horror sites and reviewers, I was really pleased when the movie finally got to Netflix and thus gave us the chance to check it out.
The movie starts with a woman that hears whispering voices from the kitchen, which soon escalates into a bloody outcome for her while a terrified husband can't do anything else but watch. We soon learn that the supernatural occurences is rooted in the neighbouring houses as well, and a group of paranormal researchers are trying to investigate the strange happenings. A dead boy returning from his grave, a naked man hiding under the bed, and strange noises and disturbances are just some of the occurences in the neighborhood that is obviously plagued by something paranormal. When the investigators start their research (the investigators being a group consisting of aged "Ed & Lorraine"- alikes and a nervous cop close to retirement due to health issues) things quickly escalate.
"Terrified" aka "Aterrados" is a solid addition to the paranormal/supernatural genre, and is the kind of movie that focuses its scares on being creepy and suspenseful, with some pretty effective scenes that can easily give you the heebie jeebies. Granted, there isn't really much of a plot in the movie, and when it ends there are more than just a few unanswered questions. It's a movie that still stands well planted on its own feet due to atmosphere, suspense and effective scenes alone, and should be well worth a watch.

Director: Demián Rugna
Country & year: Argentina, 2017
Actors: Maximiliano Ghione, Norberto Gonzalo, Elvira Onetto, George L. Lewis, Julieta Vallina, Demián Salomón, Agustín Rittano
IMDb: www.imdb.com/title/tt7549892/