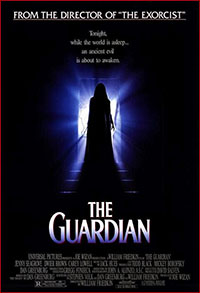 As I had always thought that The Exorcist was William Friedkin's one and only pure horror movie, I didn't know what to expect from this slightly obscure little film called "The Guardian" when it finally came into my radar. So let's check it out.
The movie opens with the text: «For thousands of years a religious order known as the druids worshipped trees, sometimes even sacrificing human beings to them.» After viewing this text introduction, we're in the home of a high class family where a boy reads Hansel and Gretel to his little infant sister while his parents are getting ready to go on a business trip for some days. As soon as they drive away, the nanny they hired grabs the baby and take her to the woods. The parents returns to the home since the mother forgot her glasses, when they realize that the baby and nanny is missing. The nanny has already sacrificed the baby to a tree where its face is embossed in the tree bark. The nanny gets away, and three months later in sunny California we get introduced to a couple who has a baby on the way. And with their busy career, they of course need a nanny. They have some auditions, and amongst them is the nanny we saw in the beginning. Unaware of her dark intentions, they hire her. The neighbour falls madly in love with her, and one night he follows her when she goes into the woods. There, he witnesses her laying down nude on a tree branch and beginning to fuse with the tree bark, and he realizes that this woman has no business being around children.. or anyone else for that matter.
Sam Raimi was first hired to direct due to his recent success with "Evil Dead II", but dropped off to make "Darkman" instead (which is awesome, by the way). In came William Friedkin who was going through a tough time and apparently took whatever got handed to him. He also had a scary experience with a nanny himself who put his son in danger, and thus could relate to the two parents and their feeling of hopelessness. So with the director on board who was known for the scariest movie of all time, "The Exorcist" , what could go wrong?
"The Guardian" had a shooting schedule set to two weeks, but ended up in twelve with a chaotic production. The british screenwriter Stephen Volk was hired to write the script, but was never satisfied with the story's progress. He and Friedkin figured out that the film would be better without the fantasy elements, but the studio disapproved of that idea. The Guardian was heavily promoted as "From The Director of The Exorcist" and his big comeback to the horror genre in seventeen years. And since The Exorcist was a supernatural horror movie with a huge success, they thought Friedkin could just snap with his fingers and repeat the magic. Well, that didn't work at all. Stephen Volk got a mental breakdown, left the production and made the mockumentary "Ghostwatch" for british TV two years later. Friedkin was left behind with an unfinished script that was rewritten every day while shooting.
Jenny Seagrove, who plays the Nanny, was also unhappy with the fantasy elements and wanted the movie to be a down-to-earth psycho thriller about a nanny who kidnaps babies. She called the movie awful and told the studio that it would be just wrong to have a nanny who's a druid and becomes a tree. Well, who could blame her.. When "The Hand That Rocks the Cradle" was released two years later by Warner Bros, which became a huge financial success, she rang a friend at Universal who simply said: "Don't. Don't even talk about it, you were right". Ouch. The film was cut for theatrical release and for Cable TV. In the TV version the director was credited as Alan Smithee, the pseudonym directors use when they're so unhappy or embarrassed of the final product that they don't want to be associated with it. However, Friedkin has stated on a commentary track on one of the DVD's that he didn't even know about the TV version, and views The Guardian as his most personal film.
Seagrove has said in retrospect that the film is "good fun", and that's a great way to summarize it. It's no masterpiece, but far from boring. It's a rather bizarre movie with full of cheesiness, some great gore, nudity, a scary tree that gets mutilated with a chainsaw in Evil Dead-Ash-style while tons of fake blood is pouring out. Makes me wonder if Sam Raimi actually had some input on that aspect. And of course we have an authentic birth-giving scene.

Director: William Friedkin
Country & year: USA, 1990
Actors: Jenny Seagrove, Dwier Brown, Carey Lowell, Brad Hall, Miguel Ferrer, Natalija Nogulich, Pamela Brull, Gary Swanson
IMDb: //www.imdb.com/title/tt0099710/