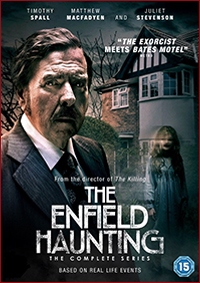 Before The Conjuring 2, there was … The Enfield Haunting – a miniseries in three parts lasting for two hours, produced for the British telly.
Based on the book This House is Haunted by Guy Lyon Playfair, who documented the case between 1977 to 1979 together with Maurice Grosse. So there's zero signs of The Crooked Man or a scary, demonic nun to be seen here. Nor the Warren-couple, who didn't actually have that much to do with the case in comparison to Grosse and Playfair. This is a totally separate production with no connection to The Conjuring universe whatsoever, so this probably gives more than a few biscuit-crumbs of truth compared to a typical fictional fairytale written by some Hollywood screenwriter. Or maybe not. The Conjuring films are great for what they are, but when it comes to what's based on reality and what's pure hogwash, I just don't bother to care anymore. Just entertain us at least, dammit!
It's August 1977 where we find ourselves in the district of Enfield in north-London, where the stressed single mother Peggy Hodgson (Rosie Cavaliero) lives with her three children in a council apartment, with cramped living conditions and a crumbling economy. And weird things happen around the house, such as kitchen chairs that seem to have a tendency to move on their own. But when pencil scribbles are suddenly visible on the wall, the mother has finally had it and blames the kids, especially the youngest daughter Janet (Eleanor Worthington-Cox), who is supposedly an outgoing prankster with a vivid imagination. That same night (or "later that night", if you take the reference), the mother and the kids are attacked by a drawer section that is suddenly whizzing towards them, something Janet obviously could not do, unless she had some Carrie powers. Since the police can't put ghosts in handcuffs, the elderly gentleman and parapsychologist Maurice Grosse (Timothy Spall) is sent from the Society for Psychical Research to take a look at this house.

When the case begins to flare up in the media with the famous headline "House Of Strange Happenings", Guy Lyon Playfair (Matthew Macfadyen) comes knocking on the door. He's a colleague of Maurice and an author in parapsychology, who sees the brilliant opportunity to capitalize on the case by writing the script for his book, as mentioned. And he does so behind everyone's back, something Maurice is not so happy about when he accidentally finds out. A quick trivia: Playfair also worked as a consultant on Ghostwatch back in 1992, which was also inspired by the Enfield case. Anyway, it's not long before things get more aggressive, as Janet starts talking in a demonic-growling voice that is supposed to come from the house's former tenant – an evil, old man named Joe Watson (also known as Bill Wilkins), a creepy drunk uncle-looking guy, who died in the house.
We get to spend a lot of time with Maurice Grosse, which at this time went through a severe life crisis after his daughter died in a motorcycle accident. He's a broken, old man who slowly gets eaten up by grief, sorrow, guilt and traumatic nightmares, while he's using his ghost hunting as both therapy and a hope to come in contact with his dead daughter to get some closure. And in all of this, his marriage with Betty is on the verge of collapsing at any minute. Guy Lyon Playfair, however, is the complete opposite of Maurice – a stiff, stone-cold skeptic, with a "you see what you want to see"-attitude, who is more eager to debunk it all as a hoax than anything. There's also a mystery-plot that must be solved to get to the bottom of this Joe Watson, aka Bill Wilkins while Mr. Grosse tries to find a spiritual connection between Janet and his deceased daughter, who by a coincidence also was named Janet.
The Enfield Haunting was an overall pleasant surprise, and I hadn't expected the two hours it lasted to fly away that quickly, especially when we're talking about a TV Mini-Series. In this case it actually looks way more like a feature film that's been cut into three episodes, which would have blended even better if the opening and credits where cut out from the DVD (just a minor nitpick). It has a great production value with a solid directing and a script that manages to mix drama and horror in a satisfying and well-balanced way that I find pretty rare. The acting is first-class, especially from Timothy Spall as Maurice Grosse and Eleanor Worthington-Cox as Janet Hodgson who's more or less the heart and soul in this. The Enfield Haunting has its share of tension and scares, for sure, but it's not the typical and modern roller-coaster-ride you maybe would expect – so, you would be more pleased if you prefer more grounded, old-fashioned ghost stories on the same level as The Woman in Black and The Changeling.

Directors: Kristoffer Nyholm
Country & year: UK, 2015
Actors: Timothy Spall, Eleanor Worthington-Cox, Juliet Stevenson, Fern Deacon, Rosie Cavaliero, Elliot Kerley, Matthew Macfadyen, Struan Rodger, Charles Furness, Joey Price, Simon Chandler, Amanda Lawrence, Sean Francis
IMDb: www.imdb.com/title/tt4036886/