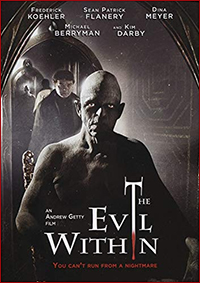 Dennis is a young mentally retarded man living with his big brother John. He has no friends, and is isolated at home where he is struggling with trippy nightmares. Because of Dennis, John has had to put the love of his life, Lydia, on hold. Lydia would like for them to get a life together, but him being tied up with his mentally retarded brother makes this difficult. One day, John comes home with an antique mirror that he places in Dennis's room…a mirror Dennis had previously dreamt about before it even came into the house. Soon, Dennis begins to talk to his own reflection…and it talks back. Inside the mirror there is a demon that manipulates Dennis into believing that he can become smart and get rid of the resilience by killing people.
Obscure amateur horror films seem to be bred like fruit flies these days, and let's be honest and admit that very often they are pickings from the bottom of the barrel. However, when it comes to this one, which I came across on Amazon.com as recommended to me, it immediately sparked my curiosity. Michael Berryman on the cover, and not a 3.2 on imdB? Let's check it out.
«The Evil Within» is a psychological horror movie that explores the grotesque nature of the human mind, and after just a few minutes you'll understand that this is not a conventional movie. We get thrown right into one of Dennis's trippy and bizzare nightmares, where we get a glimpse of the demon entity which later manifests himself in the mirror. We spend a lot of time with Dennis, who is slipping more and more into madness, and thanks to the brilliant acting by Frederick Koehler, it never gets boring. He really plays his role believeable with his facial ticks, overall body form and the way he delivers his lines, makes him really disturbing.
It's overall a pretty dark movie with a moody, depressive tone, and with the right state of mind the film works like a interesting character study.
And some trivia: It took director and writer Andrew Getty six years to shoot the film and another seven years to get it into post-production. Sadly, he died in 2015 due to a history of drug addiction, which made this his first and last movie. He didn't even get to see the final product, one of his producers finished the film.

Director: Andrew Getty
Country & year: USA, 2017
Actors: Frederick Koehler, Sean Patrick Flanery, Brianna Brown, Dina Meyer, Michael Berryman, Francis Guinan, Kim Darby
IMDb: www.imdb.com/title/tt0339736/