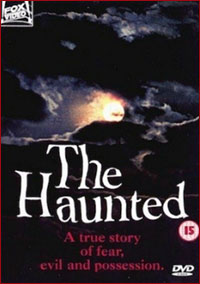 Before The Conjuring, Annabelle and The Nun there was an obscure movie made for TV called "The Haunted".
In the 1970's, Jack and Janet Smurl moves to a big house in West Pittston, Pennsylvania, together with Jack's parents who resides in one part of the house. Janet, being a housewife and spending most of the time alone in the house, starts experiencing strange things like unexplained noises and a dark shape showing up while she's cleaning the house. As things escalate, they contact a pair of priests who, instead of helping them, advice them to seek family counseling. In desperation Janet seeks out the well-known paranormal investigators Ed and Lorraine Warren, and the war against the paranormal has started.
"The Haunted" can in many ways be seen as the first "Conjuring" movie, and is based on what the Smurl-family experienced in the period between 1979-89. However, this TV-movie is pretty obscure and doesn't even have any official dvd release. Which is quite sad, as this is a pretty good haunted house horror movie.
My first meeting with this movie was in the early 1990's when it was shown on "TV3" under the norwegian title "Hjemsøkt av djevelen" (which means "Haunted by the devil"). At that time (and age) it was the scariest movie I had seen and it caused a couple of sleepless nights afterwards. There are several scenes in the movie that are quite effective because they play the good game of "less is more". There is, however, an incredibly cheesy scene where Jack Smurl is attacked and sexually assaulted by a demon in the living room, with pink lighting effects and a smoke machine. Aside from that, the movie does have a serious tone and is suspenseful and creepy, and it would be nice to see it released on dvd someday. Or, at the very least, on streaming (like Netflix, Prime, and so on). As of now, the only options you have are bootlegs or YouTube.

Director: Robert Mandel
Country & year: USA, 1991
Actors: Sally Kirkland, Jeffrey DeMunn, Louise Latham, George Wallace, Joyce Van Patten, William O'Connell, Stephen Markle, Diane Baker
IMDb: www.imdb.com/title/tt0102007/