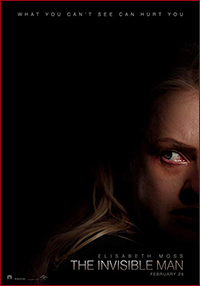 Cecilia manages to escape a controlling and abusive relationship, but struggles to overcome the negative impact the experience has had on her life. Still paranoid and afraid her ex will come after her, she suddenly receives the news that he has committed suicide…and that she has been written into his will. With a substantial amount of money to be gradually paid out to her, and knowing her abusive ex is gone from this world, she hopes to re-build her life. However, after experiencing certain horrifying events, she starts to believe that his death was a hoax and that he's acquired the ability to become invisible, only to terrorize her even further.
The Invisible Man, directed by Leigh Whannell (director of Insidious: Chapter 3, and writer of the previous Insidious movies as well as the first three Saw movies) has revived one of the classic Universal monsters, but in a completely different setting than from the original which was based on the novel by H. G. Wells. Whereas the original Invisible Man wasn't a bad guy from the get-go, he is here a narcissistic sociopath who is abusive and controlling towards his partner. Thus, the horror the movie portrays feels real, and the first sequence of the movie where Cecilia has drugged him in order to escape the fortress-like home he's captured her in, is actually one of the most intense movie openings I've seen as of late.
While the movie starts quite intense, the feeling of foreboding is quite evident already in the next scenes, where we witness Cecilia trying to get a hold of her own life (barely daring to venture outside of the house she's staying in). And upon the news of her ex's so-called suicide, with a substantial amount of money to be paid to her over time (provided she does not commit any crime or is deemed mentally unstable, as per the will – and yeah, you know why this clause was added) she starts to relax a little bit and looks brightly upon her own future for once. Of course, that shifts rather quickly, and when she experiences things that only she is witnessing, she tries to convince those close to her that her ex is still alive, and has made himself invisible. Of course, no one believes her, and she keeps being abused…but since no one except herself is experiencing the abuse, she can't make anyone believe her. Yes – the analogy here is clear as day.
From there on, the movie takes you on a suspenseful ride, and Elisabeth Moss (who is playing the role of Cecilia) is doing an excellent job on portraying all levels of the torments she's going through, whether it is being scared out of her mind, desperately trying to fight back, or emotionally crushed by not being believed and the lack of an actual escape from her invisible tormentor. And while we don't see that much of Adrian aka The Invisible Man, played by Oliver Jackson-Cohen, he actually did manage to show off a few tell-tale signs of the type of character he's portraying.
The Invisible Man is a movie that might be a bit difficult to watch for people who have experienced abusive relationships, as it's nailing narcissistic abuse in a way I haven't seen any other film dare to exploit. It's all there: making everyone believe their victim is the crazy one, making the victim doubting their own sanity, and especially gaslighting (a tactic used to make victims doubt themselves and their perception of events, by questioning the victim's memory, accusing them of making things up, denying things that they did towards the victim, and mocking them for "misunderstanding" everything).
Since it does stray pretty far from the original Invisible Man, some people may be put off due to this. I can imagine that putting these two movies apart from each other without doing comparisons, would be beneficial to the viewing experience.

Director: Leigh Whannell
Country & year: Australia | USA | Canada | UK, 2020
Actors: Elisabeth Moss, Oliver Jackson-Cohen, Harriet Dyer, Aldis Hodge, Storm Reid, Michael Dorman, Benedict Hardie, Renee Lim, Brian Meegan, Nick Kici, Vivienne Greer, Nicholas Hope, Cleave Williams, Cardwell Lynch, Sam Smith
IMDb: www.imdb.com/title/tt1051906/