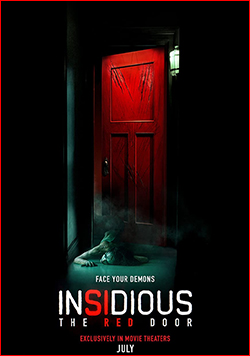 It's now been nine years since the Lambert family had their paranormal troubles and decided to use hypnosis on Josh and Dalton so they could forget about everything and try to live normal lives. Now Josh is divorced from his wife Renai, his mother Lorraine has recently died, and his relationship with Dalton has gone down the gutter. In other words, nine years later things aren't exactly that great. Josh tries to bond a little with his son when driving him off to college, but everything just ends with a fiery argument instead. And of course, both Josh and Dalton start to experience paranormal things again, and after Dalton accidentally starts wandering into The Further, not really knowing what he's doing and oblivious of his astral projection abilities, his roommate shows him a YouTube clip of Specs and Tucker talking about the theme. And when Dalton sees a clip of Elise talking about The Further, everything starts to slowly unveil.
Insidious: The Red Door is the fifth installment of the Insidious franchise, and it's directed by Patrick Wilson (who plays the role as Josh in the movies) in his directorial debut. It is a direct sequel to the second film in the franchise, Insidious: Chapter 2, which was released in 2013. James Wan serves as producer together with Jason Blum, and it's based on a story by Leigh Whannell and Scott Teems. The movie has received rather mixed reviews, and honestly, this one feels like the weakest installment and unfortunately comes off as very sparse with actual scares, which have been replaced with awkward college-themed humour, family drama, and trauma issues. There's some really cringey scenes at a party featuring a dude dressed up in diapers, maybe the youngsters found this hilarious and a comic relief but I guess I'm too old for such shit. Still, I have to add that the movie does have some nice ideas though, like the college part of The Further which includes the puking ghost of a student that died at the frat house, and the scene in the MRI has a really good build-up and was solidly made.
Now, every movie in the franchise have offered us some demonic baddies of various kinds, and what was missing here is the focus on some villainous entity like in the previous movies. There's the Lipstick-Face demon, but we barely get to see him. I think it could have redeemed the movie a bit if we actually got to see more of this main villain in the series, and his theater-like room with marionettes and a gramophone playing Tiptoe through the Tulips by Tiny Tim. Speaking of which, when we actually get to this area later in the movie, and the gramophone starts playing, I got in the mood for that exact song to relive some of the feeling of the first movie…but instead a different song started playing. And while Tiptoe Through the Tulips could be heard a little while later, I'd found myself already thrown off the mood. The Lipstick-Face demon scenes were used too sparsely to have much payoff, unfortunately.
With a budget of $16 million, it's now looking at a worldwide gross of $126 million, which does make Insidious: The Red Door a financial success at least. But whether this is the final nail in the Insidious coffin and having the red door locked up for good, remains to be seen. If you're a fan of the franchise and would like to see the (probable) end of the story, it's likely worth a watch, and if you've been watching the previous movies and noticed the gradual decline, it won't come as much of a surprise that this last installment isn't exactly a masterpiece. As a directorial debut from Patrick Wilson it's not all that bad, but it's unfortunate that the franchise had already come to the point where it's outstayed its welcome, and with nothing new or exciting to add it fell a bit flat. It's nice to have seen it if you want the conclusion to the franchise, but overall this one's probably more fun for the younger audience (who sat screaming, gasping and jumping in the seats when we watched it).


Director: Patrick Wilson
Writers: Leigh Whannell, Scott Teems
Country & year: USA, Canada, 2023
Actors: Ty Simpkins, Patrick Wilson, Rose Byrne, Sinclair Daniel, Hiam Abbass, Andrew Astor, Juliana Davies, Steve Coulter, Peter Dager, Justin Sturgis, Joseph Bishara
IMDb: www.imdb.com/title/tt13405778/

Related posts: Insidious: The Last Key (2018) | Insidious: Chapter 3 (2015) | Insidious: Chapter 2 (2013) | Insidious (2010