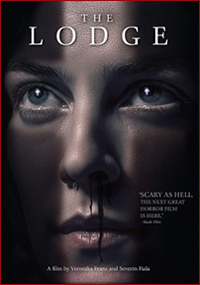 In the hopes of being able to bond with her soon-to-be stepchildren, Grace is staying with them in a remote winter cabin over the holidays. Their father was supposed to stay with them, but is unexpectedly called to work and he cannot refuse, which leaves her alone with the children. With the holidays just around the corner she hopes that they will be able to have a good time, but the isolation and a blizzard traps them inside the lodge. Then, mysterious and frightening things start happening, keeping Grace wondering if it's just the isolation and the strained relationship to the children, or if it's the demons from her past that have come back to haunt her.
The Lodge is a chilling psychological thriller, which builds slowly but rewards your patience. The mood is quite unnerving (very much caused by a certain scene very early in the film which really packs a punch), and somewhat similar to what could be felt in Ari Aster's horror films "Hereditary" and Midsommar: a focus on loss and grief. Together with a splash of trauma, due to Grace's past in a religious suicide cult where she was the only survivor…and another dosage of resentment, as the children is blaming Grace for their newfound (and not desired) family situation. As you can guess: not exactly the best recipe for a nice holiday vacation at an isolated cabin.
The chilling moments in The Lodge are intensified by the strong performances, both by the traumatized Grace (Riley Keough) and the two children Aiden (Jaeden Martell) and Mia (Lia McHugh). The cinematography works wonders in depicting the lodge as dark and ominous, with the white snow-filled landscape surrounding it working as a perfect contrast.
Now, The Lodge is a horror movie that may not be for everyone, with a slow build and more focus on psychological tension. There's a lot of tension in the air, but not necessarily a lot of action. However, its slow build and tense atmosphere is what makes it work for what it is, and results in a creepy and unsettling experience.

Directors: Severin Fiala, Veronika Franz
Country & year: UK | Canada | USA, 2019
Actors: Riley Keough, Jaeden Martell, Lia McHugh, Richard Armitage, Alicia Silverstone, Danny Keough, ola Reid, Philippe Ménard, Jarred Atkin
IMDb: www.imdb.com/title/tt7347846/