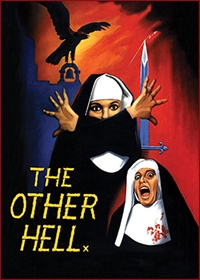 We are in a catacomb somewhere, where a nun seems to have gotten lost. She ends up in a "mad scientist" style lab where another nun lies freshly dead, naked, ready for God knows what. One of the other nuns shows up to cut out a part of her uterus (I guess), like some kind of ritual punishment, while preaching how sinful she was. And we're only 6 minutes into the movie where the acting is so hysterically bad with one retarded facial expression after another. And out of pure randomness, a cauldron starts to boil over as we see close-ups of two glowing, blinking red eyes that gives off some really cheap cyborg/Terminator vibes. (And yes, this is made by the same director and screenwriter who also made the cheap unofficial Italian Terminator II some years later.) The glowing eyes seem to possess one of the nuns to stab the other to death. In this local convent, run by Mother Vincenza, several nuns seems to die in mysterious ways, while priests are being burned alive… and so on.
So… just to have the non-existing plot going on, an investigator is put on the case to find out what kind of fishy things are happening inside of the convent's walls. Well, good luck with that, for not even the movie's Wikipedia page has a fucking clue on what to fill in the plot section, as we speak.
So… uhm… yeah, it's hard to convey what's really going on here. A lot of weird convoluted shit just happens… just because. With the directing (to use the word loosely) by Bruno "Italian Ed Wood" Mattei and a script by Claudio "Troll 2" Fragasso, there isn't much movie magic to witness here. I didn't really expect it to be either. This rather shabby duo has made over a dozen shitty schlocks together, and is perhaps best known for Hell of the Living Dead (1980) where a considerable amount of the screen time consists of stock footage.
The one and only quality to dig up here is the soundtrack by Goblin, which I have no idea they used legally or not, but it doesn't help that much with putting some lustre on this pure stumbling incompetence or add any form of atmosphere. On the other hand, I can't deny that I had a fun time watching The Other Hell. It's completely unpredictable and has plenty of insane campiness to get entertained by. And of course, the absurdly bad acting itself makes it worth a watch alone.

Director: Bruno Mattei
Original title: L'altro inferno
Country & year: Italy, 1981
Actors: Franca Stoppi, Carlo De Mejo, Francesca Carmeno, Susan Forget, Franco Garofalo, Paola Montenero, Ornella Picozzi, Andrea Aureli
IMDb: www.imdb.com/title/tt0080362/