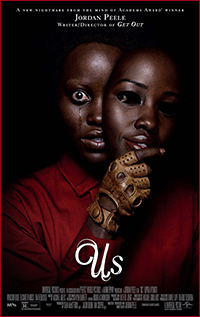 The Wilson family owns a vacation house near the beach in Santa Cruz. Adelaide, the wife in the family, had an experience at that beach when she was a little girl and has no desire at all to revisit the place. Her husband convinces her to go there, however, together with the Tyler family to have a good time. Things don't go as well as planned for, and back at the vacation house that night things turn even worse. Four mysterious people dressed in red appears outside the house, breaking in and terrorizing them. What's even worse, is that all of these strangers look exactly like themselves…
"Us" is the second horror film directed by Jordan Peele, who made a name for himself with his debut horror movie "Get Out" in 2017. Not unexpectedly, the expectations regarding "Us" has been pretty high, but fortunately Peele shows us that he's not just a one-time-hit director. "Us" manages to balance suspense, creepiness, social commentary and even a bit of comedy very well, just like he did in "Get Out". "Us" is more of  a straight-forward horror movie, with a higher level of suspense and creepy scenes. With Mike Gioulakis as the cinematographer (who was also the cinematographer for the very suspenseful horror movie "It Follows"), it should come as no surprise that this is a movie that will keep you at the edge of your seat for the most part.
"Us" is a movie that is best seen when knowing as little as possible about it, and I personally recommend avoiding any spoilers prior to watching it. It's very hard, even impossible, to venture much further into the movie's plot without spoiling things. There are a few plot holes that might leave you scratching your head in confusion, but fortunately not too much to ruin the experience.
Now let's look forward to what Peele's next entry into the horror world might be!

Director: Jordan Peele
Country & year: USA, 2019
Actors: Lupita Nyong'o, Winston Duke, Elisabeth Moss, Tim Heidecker, Shahadi Wright Joseph, Evan Alex, Yahya Abdul-Mateen II, Anna Diop, Cali Sheldon, Noelle Sheldon, Madison Curry
IMDb: www.imdb.com/title/tt6857112/