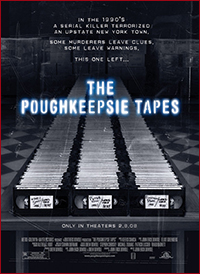 In a serial killer's now abandoned home, investigators reveal a large amount of VHS tapes that contains his "work" in chronological order as he's been filming the murders and abuse of his victims. This is the most disturbing collection of evidence the homicide detectives have ever seen, and reveals an in-depth documentation of a serial killer's reign of terror.
Made in a "mockumentary" (faux documentary) style, this is a somewhat creepy and unsettling movie. It's the first horror movie John Erick Dowdle's directed, and later he became known for "Quarantine" (2008), "Devil" (2010) and "As above so below" (2014). The movie contains a very realistic tone throughout, with "interviews" and "footage" that are made to be believeable and helps putting the dark and grim atmosphere in place. In many ways it reflects "true crime shows" so well that you could probably have fooled someone who didn't know it's a faux documentary.
The murders and torture of the victims of the serial killer (who has been nicknamed "the water street butcher") is somewhat toned down despite being quite chilling. There isn't large amounts of blood and gore here, but the "footage" shows enough for you to know exactly what's going on, along with detailed descriptions by the investigators. It's not a movie that's gory or straight-out scary, but it's definitely creepy and unsettling.
Serial killers have always fascinated a lot of people. What can make a (seemingly) normal person commit such atrocious acts? How can they manage to keep from being caught over such a long time? And how many serial killers are still on the lose around the world? Those thoughts can be more frightening than occasional nightmarish thoughts about monsters and bogeymen…serial killers are real, and they're out there. The FBI estimates that there are about 25-50 active serial killers operating through the U.S. at any given time (which is also referenced in this movie, actually). Many have asked if the movie is based upon a real serial killer, whereas the director has answered that it's not, but inspired by several. In Poughkeepsie there was actually a real serial killer, Kendall Francois, who killed eight women in the period of 1997-98.
If you're interested in a well-made serial killer mockumentary with a quite realistic tone, you should check this one out.

Director: John Erick Dowdle
Country & year: USA, 2007
Actors: Stacy Chbosky, Ben Messmer, Samantha Robson, Ivar Brogger, Lou George, Amy Lyndon, Michael Lawson, Ron Harper, Kim Kenny
IMDb: www.imdb.com/title/tt1010271/