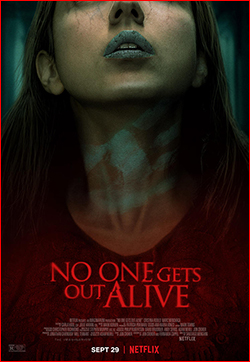 Ambar is a young woman who tries to move from Mexico and settle in Cleveland, Ohio, after her mother passes away. Unfortunately, she's an undocumented immigrant, which makes it incredibly hard to find a job and a place to live. She works at an "under the table" job, with an asshole boss who treats her like shit because he knows she doesn't have much of a choice. In a desperate search for some place to stay, she finds a dilapidated boarding house where the owner, Red, doesn't care about asking any questions as long as one month's rent is paid up front. Shortly after she moves in, she starts experiencing strange things and sees ghostly figures. Some of the rooms in the house is also filled with strange artifacts, as Red's parents were archaeologists. And to top it all, Red's got a mentally disturbed brother who acts in a threatening manner. And while she isn't the only woman in the house as there's also two other young women renting a room there, Ambar soon feel that the supernatural visions and the overall threatening atmosphere in the house is becoming a bit too much…
No One Gets Out Alive is a supernatural horror film from 2021, directed by Santiago Menghini and based on an Adam Nevill novel by the same name. It premiered on Netflix on 29 September 2021. Now, while I have read some of Adam Nevill's books I haven't read this one, so on that part I'm unable to make any comparisons. I think this movie is a little bit of a modern gothic horror, set in a gloomy mansion-like boarding house where ghostly apparitions fit well in with the interior, so to speak. It's atmospheric and offers mysteries and tension, which are not all caused by the supernatural affairs. Ambar's experience as a lost, lonely and desperate young woman in a place where she basically has no value, and constantly in a situation where others might take advantage of her without repercussions, adds to the feeling if despair and tension. Even when Ambar befriends one of her colleagues who promises to get her a fake ID, she just ends up getting robbed by this woman whom she thought would help her. If Ambar hadn't been in a very despairing situation, I don't think the underlying tension would have been quite as effective.
The movie also hints that it exists in the same universe as The Ritual, as a newscaster mentions the four lost hikers in the Swedish woods. The Ritual is another book by Nevill which had a movie adaption released in 2017, and is currently also available on Netflix. Just like in The Ritual, there's a god-like monster here. It isn't particularly well explained, but it is some kind of Aztec goodess named Itzpapaloyl, which actually means "clawed butterfly" or "obsidian butterfly". In Aztec religion, Itzpapaloyl is a fearsome skeletal death goddess. And just like in The Ritual, the monster design and effects are neat and otherworldly to the max, even if their display time is minimal.
Overall, No One Gets Out Alive is gloomy and creepy, where the heroine's problems are just as much related to financial and social problems than just the supernatural ones. While it certainly isn't fast paced I didn't ever find it boring, and consider it a pretty enjoyable watch.


Director: Santiago Menghini
Writers: Jon Croker, Fernanda Coppel
Country & year: UK, 2021
Actors: Cristina Rodlo, Marc Menchaca, Vala Noren, Claudia Coulter, Teresa Banham, David Barrera, Alejandro Akara, David Figlioli, Cosmina Stratan
IMDb: www.imdb.com/title/tt13056008/