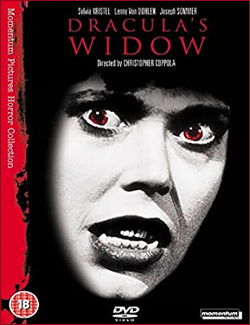 We are in one of the darker corners of Hollywood, Los Angeles, where the young man Raymond Everett (Lenny Von Dohlen) owns a horror-themed wax museum. One day he gets some new deliveries, all the way from Romania, one of which is a casket that contains something you'll never guess what – Vanessa, Dracula's widow (Sylvia Kristel). Yes, a living, bloodsucking vampire. So why has she gotten herself all the way over to Los Angeles, you may wonder? No one knows. She doesn't know, the script doesn't know, even the Man Who Knows poster we see on the wall on Raymond's apartment, doesn't know. So where do we go from here? Who knows.
Anyway, as soon she rises from the casket, she goes straight to a bar where she hooks up a random, sleazy guy who will become her first victim to feed her need for human blood. At the same time, two men breaks into the wax museum while Raymond is upstairs sipping red wine and watching Nosferatu. After Vanessa kills one of the men, she goes up to Raymond and claims him as her slave before she puts her teeth in his neck, and wants him to take her back to her husband in Romania.
Instead of just giving her a one-way ticket and wish her the best, he tells her the shocking fact that Dracula is dead, and she's a widow. Now she wants to know who killed him, so she can have her revenge. And guess what – Van Helsing's grandson, simply named Dr. Helsing, coincidentally lives in Hollywood. Of course. And even though he's old and fragile, and should rather be at a nursing home, he's still determined and pretty eager to continue the legacy of his grandfather to hunt down vampires.

And no joking here, this is the plot so far. We also get a crime investigation side-plot with Lt. Lannon (Josef Sommer) when Vanessa starts to leave more dead bodies around after her ongoing killing spree in Hollywood. When she's not transforming herself into a bat, she uses her long fingers as daggers to kill her prey. There's a pretty pointless, yet funny massacre scene with a group of devil-worshippers who are  about to sacrifice a naked blond chick to Satan, where the B-movie glory skyrockets all up to eleven. We see Vanessa turn into a monstrous creature with some really cool prosthetic makeup, as she kills off the whole group which leaves another gory crime scene to Lt. Lannon. He, of course, eventually gets in touch with Dr. Helsing, who easily convinces Hannon that all the killing is done by a vampire.
It's noteworthy to mention that Dracula's Widow is written and directed by Christopher Coppola, nephew of Francis Ford Coppola, who also made a certain Dracula film some years later. It's easy to crap all over the film by comparing Christopher to his superior uncle, but Dracula's Widow isn't completely hopeless when it comes to cheap entertaining value, with some good old '80s cheese. It's a sleazy, gory and just a plain silly popcorn flick to kill off a Wednesday night. Nothing more, nothing less. The funniest moments here is of course the comical over-acting by Silvia Kristel, with her goofy facial expressions that she displays when she tries to look intimidating when she's not wearing the monster make-up. Lenny Won Dohlen, known from Twin Peaks, has the same angsty look he always portrays. I also like the scenes with Dr. Helsing, that old geezer cracks me up. The guy who plays Lt. Lennon is the only one who takes his role dead serious, even though there's absolutely nothing to take seriously here.
Dracula's Widow is available on DVD after a quick search.



Director: Christopher Coppola
Country & year: USA, 1988
Actors: Sylvia Kristel, Josef Sommer, Lenny von Dohlen, Marc Coppola, Stefan Schnabel, Rachel Jones, Duke Ernsberger, G.F. Rowe, Richard K. Olsen, Lucius Houghton, J. Michael Hunter, Traber Burns
IMDb: www.imdb.com/title/tt0097230/