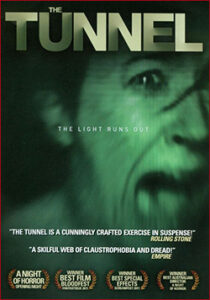 The New South Wales State government plans to recycle the huge amounts of trapped water in a network of abandoned train tunnels. However, these plans suddenly come to a halt, and publicly no one is ever told why. Rumors are spreading, like how homeless people using the tunnels end up going missing. This brings a young journalist, Natasha, to start an investigation into what she thinks is some kind of government cover-up. She and her crew decide to enter the tunnels and look for answers, but after being refused entry by a security guard, they do of course find an alternative entrance into the place. While exploring the tunnels, they start hearing strange noises through the audio headphones, and when one of the crew members go missing they eventually realize that they might not be alone in these deep, dark tunnels.
The Tunnel is a crowd-funded Australian horror film made in the mockumentary style (faux documentary), directed by Carlo Ledesma and written by Enzo Tedeschi and Julian Harvey. While found footage movies have pretty much become dime-a-dozen these days, it is still a format that can be quite effective. By the time of this movie's release back in 2011, Australia already had an other gem in their mockumentary-horror repertoire: Lake Mungo from 2008, a movie that's mostly been obscure and little known but have had some kind of re-discovery as of late. While Lake Mungo is a movie that plays more on loss and grief with some supernatural vibes underneath, The Tunnel hits heavier on the creep-keys with atmospheric scenery and things going wrong in the dark. It does have a fair amount of creep factor and plays a lot on the fear of what might be lurking in the dark, and the creepy setting helps to set the mood. The claustrophobic and dark atmosphere is pretty much what carries the movie, and easily manages to give you a whiff of the heebie jeebies since the darkness implies more than it shows, and leaves a bit to your own imagination.
The movie isn't fast-paced and spends some time before plunging the characters (and viewers) into the tunnels and the horrors that lurk there, and it also spends some time on "interviews" in order in order to maintain the documentary-style. If you have patience for the somewhat slow build-up and can appreciate that the creep-factor is more focused on what you can imagine instead of actually seeing, then you should be able to enjoy this low-budget Australian mockumentary.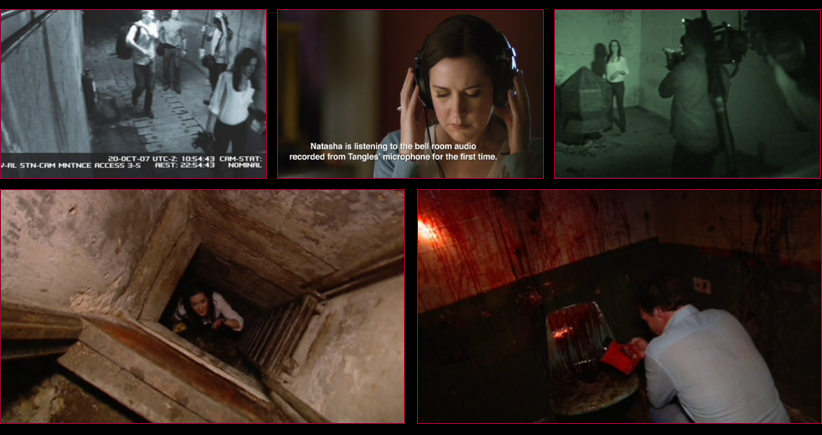 Director: Carlo Ledesma
Writers: Enzo Tedeschi, Julian Harvey
Country & year: Australia, 2011
Actors: Bel Deliá, Andy Rodoreda, Steve Davis, Luke Arnold, Goran D. Kleut, James Caitlin, Ben Maclaine, Peter McAllum, Rebecca Clay, Shannon Harvey, Arianna Gusi, Russell Jeffrey, Jessica Fallico, Ben James
IMDb: www.imdb.com/title/tt1735485/