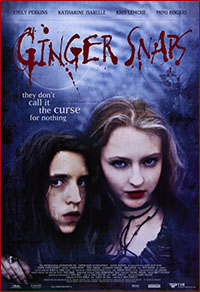 «Ginger Snaps» is the story of two sisters, two outcasts that are obsessed with death. Their main hobby is to play around with practical effects and a photo camera, taking pictures of themselves playing dead. The sisters face a serious threat when Ginger, the oldest of them, is getting bitten by a creature resembling a werewolf, on the night she has her first menstrual period. Soon, Ginger's behaviour and appearance starts to change, and Brigitte, the youngest of the two sisters, must try and help Ginger. But is there really any way to stop what is happening to her?
This movie is just as much a werewolf movie as it is a coming of age movie. Ginger's gradual transformation into a werewolf beast, changing from the young and "innocent" older sister that Brigitte is used to, could be seen as some kind of metaphor for the female coming-of-age experience shown through Ginger's lycanthropic transformation. This makes the movie one of the most imaginative Werewolf films I have seen thus far.
«Ginger Snaps» became successful enough to warrant two sequels: «Ginger Snaps 2, Unleashed» from 2004, and «Ginger Snaps Back: The Beginning», also from 2004. I have not seen any of these movies yet, and I personally think this first movie ended pretty well and with no need for any sequels.

Director: John Fawcett
Country & year:  Canada, 2000
Actors: Emily Perkins, Katharine Isabelle, Kris Lemche, Mimi Rogers, Jesse Moss, Danielle Hampton, John Bourgeois, Peter Keleghan
IMDb: www.imdb.com/title/tt0210070/