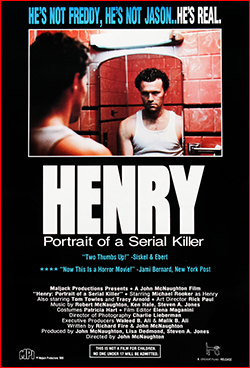 Henry Lee Lucas and Ottis Toole were two middle-aged fugly-looking serial killers, which I would never guess after glancing at a picture of them. Huh… looks can be deceiving. Henry had the distinct dead rigor mortis eye and his epic Bugs Bunny grin, while Ottis looked like a white trash side character from a Rob Zombie film that I would guess had liked to dip his mosquito-nibbled penis into a chicken's butthole. And among most of the classic and glorified serial killers like Ed Gein, Ted Bundy, Richard Ramirez, John Wayne Gacy, Jeffrey Dahmer and let's also throw Fritz Honka in the club while we're at it, they eventually got their hook in the mainstream pop-culture with a dedicated fanbase. Because serial killers fascinates us and we can't get enough of them, it's as simple as that.
Henry was especially a popular figure in Japan. A four-hour long documentary split into four episodes was released in 2019, titled The Confession Killer, where we see a film crew from Japan that were totally starstruck by finally meeting the legend. They even gave him a present after shaking hands and the ecstatic fanboys were all smiling ear to ear until Henry said I've been in your country, too. Har har. Henry was eventually proven to be a compulsive liar (wow, what a shocker) who hadn't been in an airplane once in his life and didn't even know that Japan is an island nation. The documentary is available on Netflix.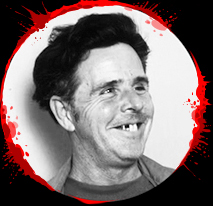 Henry has already been in and out of prison like a ping-pong ball, once for killing his mother at age 24, before he met his boyfriend and partner-in crime Ottis Toole in the mid 1970s. Their victims were mostly women as Henry hated them with a passion. If we put on the Dr. Phil glasses for a second we can assume that his hatred for women may stem from him allegedly being abused as a kid by his mother. Together the couple killed over hundreds of people, which Toole claimed after being arrested in '83. When Henry got arrested some months after, he took the confession a bit further, to put it mildly, by claiming he'd killed well over 600 (!) people and went on a quiet bizarre confession-circus tour around the country with the law enforcement dangling clueless by his tail, all of which left more questions than answers. Only three (yes 3) of his victims were found and the whole thing happened to be a big, monumental prank/scam by Henry just to get more juicy media attention by falsely confessing a bunch of killings while the police wasted god know how much time, money and resources. A complete shitshow. Ottis died in 1996, age 49 while Henry got his last laugh in 2001, age 63.
Fun fact: Henry was one of the very first who got the "serial killer" description after the FBI Special Agent Robert Ressler coined the term in the 1970s.
Henry: Portrait of a Serial killer starts direct and brutal with some graphic images of Henry's recent victims who's suffered painful deaths, as we dive straight into his grim world filled with depravity, rage and nihilism. We spend the first ten minutes with Henry (played by the young aspiring actor Michael Rooker in his first movie role) as he's roaming the suburban streets of Chicago with his rusty car, scouting for his next victim like an emotionless Terminator. He finally catch a victim when he picks up a hitchhiker, a young lady with a guitar. And that's good for the day. The next thing we see is Henry entering his apartment – a crampy, stinky shithole he shares with his friend Ottis (Tom Towles). He'a an older dude with a comb-over and bad teeth. They're not a gay couple here though as they were in the real life, just some buddies who met in prison. When they're not out to fuck some hookers in their car, who normally ends up getting killed by Henry's lack of impulse control, they have at least a TV to watch, only until Ottis, that clumsy buffoon, smashes it.
Anyway, Ottis' sister Becky (Tracy Arnold) comes to stay for a while after being on the run from a violent relationship. As Henry and Becky both shares trauma, they connect and she gets aroused by hearing how Henry killed his mother. This monologue alone, which starts with she was a whore shows what a top tier and intense actor Michael Rooker is by displaying his inner, explosive rage just with facial expressions while showing vulnerability like a lost child.
Ottis has never killed anyone but that's about to change when he one day gets punched in the face by a teenage kid. I wanna kill somebody he says to Henry who then takes him out for a killing spree to teach him how to be a serial killer. It builds up to a home invasion scene where Henry has gotten the absolute worst out of Ottis as he snaps some woman's neck like a deranged caveman in a pure gleeful psychosis and starts to show some tendencies of necrophilia, which even gets too much for Henry. A nasty scene that truly rips, much because of how we see the whole act through the grainy lens of Ottis' camcorder like a snuff film.
The film is not heavy on plot, like most of the films in this subgenre, as it works more like a slice of life and death, and a psychological study of serial killers' empty and nihilistic existence from their own perspective. We see the daily (and nightly activity) with Henry and Ottis as the time goes by, all filmed handheld on 16mm like a pseudo-documentary with a layer of unfiltered grittyness, surrounded with urban decay and dark, piss-smelling alleys – where also two serial killers happen to be lurking around, killing people just for the thrills. Nothing but bad vibes all over the place and not so far from William Lustig's Maniac (1980) when it comes to the vacant tone and the overall grim atmosphere. Both Michael Rooker and Tom Towles are just fabulous in their role as a deadly and self-destructive duo, the one more sick in the head than the other, with a fucked-up dynamic which makes them amusing and entertaining to watch, just like two train-wrecks coming together with Ottis' poor sister Becky being a clueless passenger.
And like Henry would say to sum up it all up in only three words: Fuck the Bears.



Director: John McNaughton
Writers: Richard Fire, John McNaughton
Country & year: USA, 1986
Actors: Michael Rooker, Tom Towles, Tracy Arnold, Mary Demas, Anne Bartoletti, Elizabeth Kaden, Ted Kaden, Denise Sullivan
IMDb: www.imdb.com/title/tt0099763/

Related post: Henry: Portrait of a Serial Killer, Part 2 (1996)