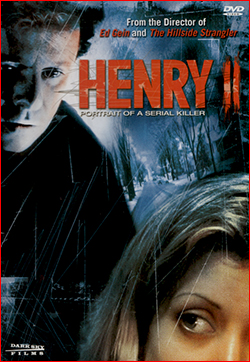 There's a lot of people who hate Henry and he can't let them win.
Part 2 of Henry's Portrait of a Serial Killer, or just simply Henry the 2nd starts off not so long after the first one ended (I assume). Ottis is dead as his headless corpse is floating in a river somewhere while Becky is chopped to pieces and stuffed in a bag suit, discarded at the side of a rural road. Nothing but happy memories all around. Now Henry is a homeless drifter wandering aimlessly through the streets of a nameless, midwestern town and sleeps at various homeless shelters. One day he's applying for a job on a port-o-john company where he gets the lovely task to clean and empty the porta potties (or the shitters as cousin Eddie would simply say).
Here he meets Kai and his wife Crickets, a lower-middle class couple who allows Henry to stay at their house after they feel sorry for him for being homeless. They are a shady couple that fits perfectly within Henry's beacon of bad vibes. They also have a mentally unhinged teenage niece in the house, Louisa, who suffers from some severe BPD and that starts to creep on Henry (not the other way around). We learn that Kai and Crickets has a pretty dysfunctional relationship as Kai is a moody alcoholic, who also practice some really shady side job as an arsonist to set up some insurance scam to make money for their slobby boss, Rooter. After Henry finds out and becomes a liability, he joins Kai to fire up one building after another as the nights goes on. Things seems to go smooth until they stumble upon a couple of squatters in one of the buildings. Henry finally does what he does best by pulling out his gun and killing one of them while he forces Kai to kill the other one. I've never killed anyone before, Kai nervously says. Sounds familiar? Can't have any of that if you wanna be buddy with Henry, you know.
This relatively obscure sequel was a mild surprise, given that Michael Rooker declined to reprise his debut role and John Mc Naughton is not in the directing chair. Writer and director Chuck Parello (who also made Ed Gein and Hillside Strangler) was clearly a big fan of the original and manages to duplicate much of the same cold and downbeat tone, although the visuals are more flat and melancholic. Like its predecessor the film follows most of  the same narrative with slices of life and death and the psychological aspects with the tense buildup around the chaotic relationship between Henry and Kai, which is getting dragged more and more into the hopeless pit of empty and meaningless life of serial killing. Nothing more, nothing less. All actors were unknown faces for my part and the task to fill the shoes of Michael Rooker went to Neil Giuntoli, who does a good performance, far better than I expected. He has the same lost boyish look with empty death stares and the raw intensity when he kills random victims for the kicks. Here we also briefly see some new sides from him to learn some of his motivations.
Overall Henry the 2nd is nothing too special but an OK sequel at best with a sharp knife and dedicated actors.


Writer and director: Chuck Parello
Also known as: Henry: Portrait of a Serial Killer 2 – Mask of Sanity
Country & year: USA, 1996
Actors: Neil Giuntoli, Rich Komenich, Kate Walsh, Carri Levinson, Daniel Allar, Marco Santucci, Rich Wilkie, Kevin Hurley, Richard Henzel, Fran Smith
IMDb: www.imdb.com/title/tt0116516/

Related post: Henry: Portrait of a Serial Killer (1986)