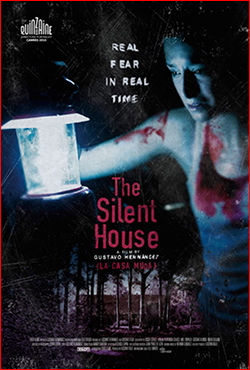 Laura and her father arrives at a secluded cottage which they are going to repair, as the owner wants to put the house out for sale. Having planned to spend the night inside the house, with its unstable and unsafe upper level and windows that are nailed shut, they soon experience that things do (of course) go wrong. A radio starts playing a sinister melody, and after Laura turns it off, her father goes upstairs to check on an other noise. Laura hears a commotion from upstairs, and shortly afterwards she finds her father's murdered body downstairs. In a state of grief and fear, she tries to escape from the house but someone has locked all the doors. As she moves around in the dark house, trying to find an exit, more sinister things happen around her…
The Silent House (La Casa Muda) is a Uruguayan horror movie directed by Gustavo Hernández and made with a tiny budget of $6,000. The film is made to look like it was filmed in real time, in one continuous 88 minute take, but the real story is that it was actually shot over four days. Despite not being filmed in one take, the length of the takes are still rather impressive though. The film is based on what is supposed to be real events that took place in 1944 in a village in Uruguay, where two brutally tortured men's bodies, missing their tongues, were found in an old farmhouse. In that regard, one could consider The Silent House as a typical gimmick-film, with the supposedly "single-take" filming as well as the supposedly "true story" (which there is no actual information about to be found anywhere online, it seems). As for the single-take gimmick, there's been numerous other films going for the same thing while having in fact been edited to appear that way. Most notably, Alfred Hitchcock's Rope from 1948. Movies that rely heavily on gimmicks are often off to a troublesome start, though, and not surprisingly the movie's reception was quite varied.
The Silent House is mostly leaning heavily on atmosphere, where inside the house the only light comes from two halogen lamps and some candles. The darkness in the house makes the viewer look for clues as to what might be hiding there, as the protagonist keeps cautiously sneaking around. It's mostly a psychological thriller, with bits of haunted-house clichés like a haunting melody playing, a "don't go upstairs" caution, and spooky imagery. Despite there not being much of a plot, it still manages to create a very tense atmosphere but the problem is still the pacing, which makes the film a little dull at times and some scenes dragging on for a little bit too long.
Overall, The Silent House is an atmospheric and different little horror film, albeit a little dull at times and offering a twist in the end which does feel a little confusing and ends up leaving more questions than answers.
There was also an english-language remake made in 2011, called Silent House.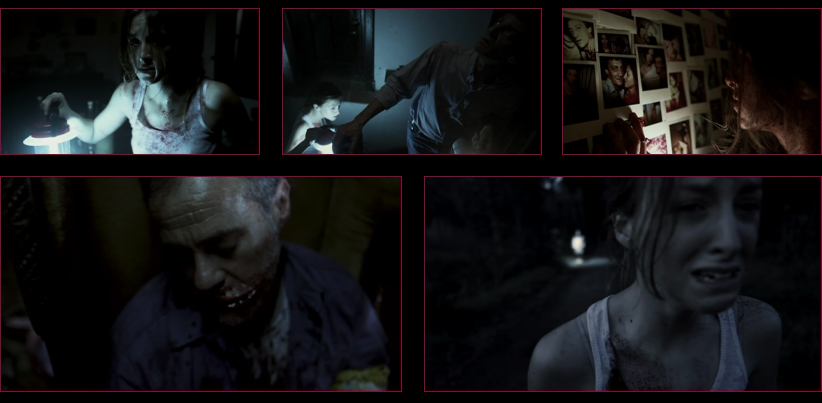 Director: Gustavo Hernández
Writers: Oscar Estévez, Gustavo Hernández, Gustavo Rojo
Original title: La casa muda
Country & year: Uruguay, 2010
Actors: Florencia Colucci, Abel Tripaldi, Gustavo Alonso, María Salazar
IMDb: www.imdb.com/title/tt1646973/