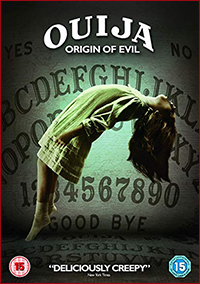 Los Angeles, 1967. Alice is a still grieving widow who works at home as a spiritual medium, and is accompanied by her two daughters when tricking their customers into making them believe that spirits are present. The oldest daughter, Lina, one day suggests that they implement a Ouija Board into her mother's readings. The youngest daughter, Doris, tries it out alone and invites an evil presence into their home, not realizing how dangerous it is.
This is a prequel to Ouija from 2014, and this time with Mike Flanagan in the director's chair. And that really shows. Compared to the first movie which was a very formulaic teenage horror flick, this prequel packs in a good bunch of tension and atmosphere. I also liked how the movie has a style that reflects the time period it's supposed to be set in with a bit of a "retro" style to it, even starting off with the old Universal logo. The performances are good, and the visuals well done.
If you've seen the first movie, you more or less know how it will end, but strangely that still doesn't take anything away from the viewer experience. You already know that the family will not experience a happy ending, but the point of this movie is not to reveal a twist at the end but to explain the journey that led to it. If there's anything I'd like to nitpick on, it's the "ghostly gape" scenes that, instead of building the tension and atmosphere further, manages to take us into cringe-land instead. Seriously: big, gaping mouths rarely look scary, and they're such a tedious horror-trope to watch these days. Now, I personally don't think these scenes ruins anything for this movie, but my personal opinion is that it would be much better without them.
Overall, Ouija: Origin of Evil is a very decent, yet quite unexpected prequel of a film that didn't really warrant any sequels or prequels. While the movie doesn't manage to become scary, it's still quite atmospheric and a big step-up from the first. Also, here is a little fun fact: for those that have seen Mike Flanagan's Oculus from 2013, you get a little Easter Egg where you can see the mirror in the basement.

Director: Mike Flanagan
Country & year: USA, 2016
Actors: Annalise Basso, Elizabeth Reaser, Lulu Wilson, Henry Thomas, Parker Mack, Halle Charlton, Alexis G. Zall, Doug Jones, Kate Siegel, Sam Anderson, Chelsea Gonzalez, Lincoln Melcher, Nicholas Keenan, Michael Weaver, Ele Keats
IMDb: www.imdb.com/title/tt4361050/

Related post: Ouija (2014)