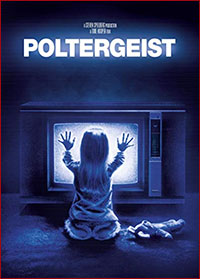 The Freeling family of five, Steven, Diane and their children Carol Anne, Robbie and Dana, plus the dog Buzz, live a quiet family life in the town of Cuesta Verde. Their youngest daughter, Carol Anne, wakes up one night and starts talking to the TV in the living room while it's on static, and strange events in the house starts happening during the next days. Their parakeet dies, furniture moves by itself, and one stormy night the dead tree in the back yard suddenly wakes to life, almost "eating" little brother Robbie while Carol Anne is sucked into the closet by supernatural forces and disappears. The family later hears her screams for help from a static TV channel, and decides to seek help from a group of parapsychologists in order to get her daughter back.
The family learns, among other things, from the medium Tangina that there is a portal to another dimension in the house where the daughter is trapped, and figures out a plan to go in there and find her.
To be 35 years old, «Poltergeist» is still holding up, much thanks to Steven Spielberg's great input and the amazing effects of Industrial Light & Magic. Tobe Hooper (who, sadly, recently passed away) directs, and the movie mixes the style of Hooper and Spielberg pretty well. The shock values and the family aspects are very well put together, and the film spends some time to develop the characters. Many great scenes stands out here; the scene with the tree, the clown, the face-ripping scene and the crazy climax is just bone-chilling. Also great soundtrack by Jerry Goldsmith. «Poltergeist» will always have a specieal place in my heart, and is at least on my top 5-list of haunted house/ghost movies.

Director: Tobe Hooper
Country & year: USA, 1982
Actors: Craig T. Nelson, JoBeth Williams, Beatrice Straight, Dominique Dunne, Oliver Robins, Heather O'Rourke, Richard Lawson, Zelda Rubinstein
IMDb: www.imdb.com/title/tt0084516/
Sequels:
Poltergeist II: The Other Side (1986) //horrorghouls.com/reviews/poltergeist-2-the-other-side-1986/
Poltergeist III (1988) //horrorghouls.com/reviews/poltergeist-3-1988/