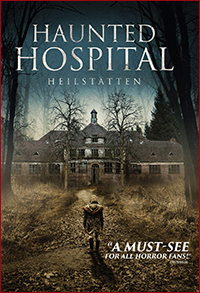 We are introduced to the YouTube channel Prankstaz.tv, run by two mildly sociopathic douchebags who make prankster-videos where they break into a morgue (among other things) and takes a selfie with one of the cadavers. And all just to see those precious views on YouTube. Reminds me of a certain guy with a similar channel who went to Suicide Forest in Japan in late 2017, to film a fresh corpse hanging from a tree and laugh at it and mock it afterwards. So, here we get a satirical glimpse at how toxic and obnoxious the YouTube prankster-community can be, and how far they are willing to push the shock factor to get the desired attention and views.
However, the next project by The Prankstaz is to spend a night in the closed and abandoned Beeliz Heilstätten (or Beeliz Sanatorium), outside of Berlin, which was used during the Nazi era. The sanatorium is supposed to be haunted by a woman, or simply "patient 106". She killed herself by slitting her wrists in a bathtub after she got pregnant with one of the doctors, and it's said that she cursed the place. They bring some other YouTubers along with them: a local historian to creep us out with the sanatorium's dark past, and of course a medium. After they've installed static cams in every corner and start to settle in for the night, it doesn't take long until some spooky shit starts to happen. Of course.
The location is also based on the real sanatorium, Beelitz Heilstätten, where the Führer himself was treated for a leg wound in 1918. So yeah, this place goes way back, and was in its time the biggest building of this kind. But the place is most known for the murders by serial killer Wolfgang Schmidt, who allegedly killed five women on this location in the 80's. A homeless man also hung himself in the sanatorium after it got closed down and abandoned in the early 90's. A scene from The Pianist (2002) was shot here, and Rammstein used the location for the music video "Mein Herz Brennt". In Haunted Hospital: Heilstätten they used Heilstätte Grabowsee as the location, another huge abandoned sanatorium outside of Berlin. And yes, Grave Encounters (2011) comes to mind, and they share much of the same qualities, I would say. A huge, dusty, decayed, broken down mental facility with narrow corridors that just seem to go into obscurity, great sound design, thick atmosphere, pretty much the ingredients you need to make a great found footage horror.
And then there's a twist, which you will probably see a mile away, but unfortunately was very poorly executed. But besides of that, Haunted Hospital: Heilstätten is a pretty solid found footage horror that deserves a watch.

Director: Michael David Pate
Country & year: Germany, 2018
Actors: Nilam Farooq, Farina Flebbe, Sonja Gerhardt, Maxine Kazis, Lisa-Marie Koroll, Emilio Sakraya, Tim Oliver Schultz, Davis Schulz, Timmi Trinks
IMDb: www.imdb.com/title/tt7214470/