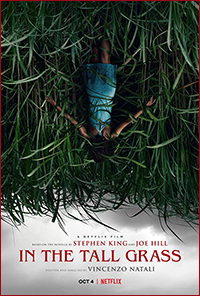 A sister (Becky) and brother (Cal) is driving close by a vast field area of tall grass in the middle of Kansas. She is pregnant, and they stop by a deserted church because she's gotten a bit carsick. There, they hear a young boy's cry for help from the tall grass, claiming he's lost and cannot find his way out. They both go in there to save him, but ends up finding themselves lost as well. Something is not right about that vast field of tall grass…and something evil is lurking within.
In The Tall Grass is based on a novella by Stephen King and his son Joe Hill. A father & son collaboration, in other words. The director is Vincenzo Natali (director of Cube from 1997, Splice from 2009, and among many other things he's also been directing some of the episodes in the Locke & Key TV Series). This movie is available on Netflix, and was released on October 4th. This makes it the third Stephen King original on Netflix (the other two includes 1922 and Gerald's Game).
The film starts off pretty interesting. and for those familiar with more of Stephen King's work, Children of The Corn is easily coming to mind. This story has nothing to do with that, however, and instead throws the characters into a never-ending green maze. There they meet the boy and his parents (the father played by Patrick Wilson), and they all find themselves stuck in a Groundhog Day-like time-loop, in an ever expanding maze of tall grass.
There's no denying that the first part of the movie is the best, and there's especially one scene in particular that comes to mind when the movie is building the atmosphere and tension: where Becky and Cal tries jumping in the tall grass to see each other's arms reaching above it, in order to try locating each other. Upon their second jump, just a few seconds later, they see the distance between them has grown considerably…despite none of them having moved an inch. This tells us early on that there's something totally wrong with the maze of tall grass, and that there's no easy way out of there.
In The Tall Grass is pretty far from a flawless movie, where there's very little of an actual plot which makes it feel a bit shallow. There isn't much of an explanation either…there's some hints as to what the area is, but nothing properly explained or delved into. The area around the church is filled with other cars, giving us a hint that a lot of people have gone missing there for quite a while…but not much of anything is really revealed. It's prone to confuse you more than scare you…and it's definitely not a movie for everyone. That being said, it is still entertaining, atmospheric and visually strong. Hopefully it won't be the last Netflix original featuring Stephen King / Joe Hill based movies.

Director: Vincenzo Natali
Country & year: Canada, 2019
Actors: Laysla De Oliveira, Avery Whitted, Patrick Wilson, Will Buie Jr., Harrison Gilbertson, Tiffany Helm, Rachel Wilson
IMDb: www.imdb.com/title/tt4687108/