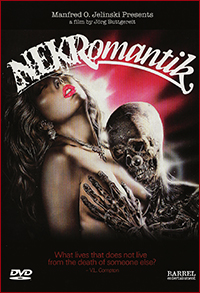 Rob and Betty are two deranged necrophiliacs who share a small flat in Berlin. Rob works for a street-cleaning agency where he cleans up dead bodies from road accidents, and takes some of those bodies home so he and his girlfriend can have a nasty threesome now and then. After one of their sex rituals, they have a fight, break up, and Betty leaves Rob alone with their cat – which he smashes in a rage and then takes a bath while he rubs the cat's intestines over his body. He loses his mind completely, as if he already haven't, and goes out at night chasing hookers to kill (and rape their dead bodies). And to fill out the running time, we get some bizarre and tedious artsy-fartsy avant-garde montages that doesn't add much more than an urge to push the fast-forward button.
The trivia page on IMDb can tell us that the director, Jörg Buttgereit, never intended to be a director and Nekromantik was just a film to rebel against the German film rating system, trying to shock as many people as possible. And I'm not doubting that for one bit, since there isn't much film-making to witness here, really. The technical aspects speaks for itself when the director has to start the commentary track by explaining that someone is pissing on a dead pigeon in the opening scene, which you can't see due to the poor image quality. And when the director says it's terrible, then that's all you need to know. Most of the film takes place in a cramped, filthy apartment, shot with a Super 8 camera showing close-ups of the couple sitting and daydreaming, bathing and fucking a corpse when it gets too boring. We also get a complete random, pointless stock-footage scene where a rabbit gets skinned and slaughtered on a farm to add some cheap shock value. However, I can at least point out a certain, hysterical scene that includes a big, erected rubber dick that doesn't look real for a second, which is the films most memorable moment, for all the wrong reasons. Even though Nekromantik is too sloppy and amateurish to be taken seriously, it quickly found its way to controversy and made its purpose by being banned in numerous countries, and has a dedicated cult-following.
To point out some qualities, the musical score by Hermann Kopp is pretty remarkable, the poster is pretty cool, and the cadaver dolls look decent enough, which took four weeks to make, and I assume that's where the budget was spent. They also used slimy pig's eyes to put in the corpse's head, since they couldn't afford to make fake eyes, which one of the actors got the honor to suck on during one of the nekro-love scenes. He could tell us that it tasted like turpentine. Yummy. John Waters is of course a big fan of Nekromantik in which he calls it "Ground-breakingly gruesome" and proclaimed it as "the first ever erotic film for necrophiliacs". So, at the very first glance at the title and cover you should quickly know if this is your thing or not. And if you don't get enough, there's also a sequel, Nekromantik 2 (1991) to enjoy. And just to put the cherry on the top if you want to feel extra dirty and maybe a little nauseous, also check out the short film Aftermath (1994) by Nacho Cerdà.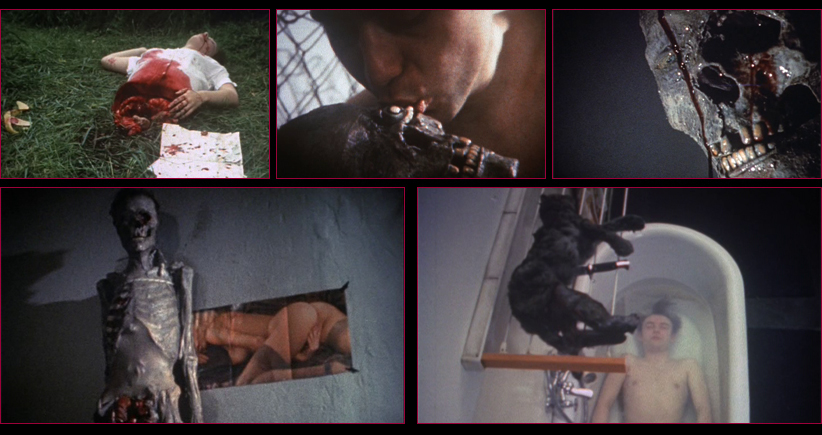 Director: Jörg Buttgereit
Country & year: Germany, 1987
Actors: Bernd Daktari Lorenz, Beatrice Manowski, Harald Lundt, Collosseo, Henri Boeck, Clemens Schwender, Jörg Buttgereit
IMDb: www.imdb.com/title/tt0093608/