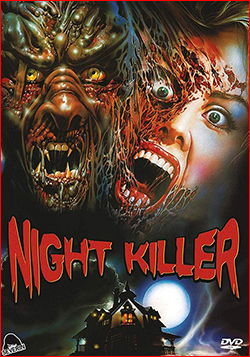 Night Killah … cool title, though. And by taking a look at the tasty cover art for the dvd, you get the impression of some body-horror going on. We also see a house in the night with a big full moon. If the cover itself couldn't lie more, the title is as misleading as it can get. But this is first and foremost an Italian produced low-budget schlock film. And with that being said, Italian distributors have for a long time been notoriously known for using some of the most misleading titles possible and promote genre films in the home country as a sequel to a more known franchise in hopes of cashing in some more bucks. The most known example is probably Lucio Fulci's Zombi 2 (a great film, by the way) which tried to cash in on Dario Argento's cut of Dawn of the Dead, released as simply Zombi in Italy. I can also mention fake clickbait titles as Cannibal Holocaust II (1988), Changeling II: The Revenge (1989), Terminator II (1989), Evil Dead 5 (1990) and the list goes on.
In this case Night Killer was promoted as – and I kid you not – The Texas Chainsaw Massacre 3 in Italy, just prior to Leatherface: The Texas Chaisaw Masscare III which was already released seven months before. So, watching this film must have been like being pranked or Rick Rolled for 85 minutes straight. The distributors must think that the Italian horror audience have mushy pasta for braincells and they should be glad that the internet wasn't a household thing back then. And of course we have the unofficial sequel of the more obscure 80s horror/fantasy Troll, completely overshadowed by Troll 2 which was made by the same director as Night Killer. We're of course talking of no one other than the man, the myth and one of the legends of Italians so-bad-it's good-movies, Claudio Fragasso himself. (Applause)
The film starts off in the middle of an aerobic dance practice where the stressed and unhinged female instructor is far from impressed by the dancers. She has a quick hilarious meltdown, then goes to the bathroom where she encounters a person with a black coat and a face covered by a cheap Freddy Krueger-like mask. He's already killed one of the dancers by shoving his rubber claws straight through her torso. While it sounds brutal on paper, the effects are, how should I even try to describe it…it's pure hot garbage and not even on an amateur level, it's beyond that and filmed in such a close-up and edited down to a split-second, that you'll miss it if you blink.
Anyway… the instructor gets her throat slit by the killer's rubber claws. And if you want blood, just forget it. There's hardly any blood pouring from her throat, as if someone just squeezed the last drops from a ketchup bottle and used the cheapest prosthetic make up one can buy from the discount bin at Walmart. It's the laziest shit ever. And the funniest thing is that this opening sequence was directed by Bruno Mattei because the studio wanted more gore. He didn't add anything new other than more inept filmmaking and a perfect foretaste of what to expect for the next 80 minutes. The most notable thing in this opening is that we clearly see that the fresh cut on her throat is magically gone when she is supposed to bleed to death. Continuity error on its finest.

The "plot", which could be hidden here somewhere, goes something like this: After the extended opening scene we're in the sunny beachside of Virgina) in the holiday season (oh, how convenient) where we meet the middle-aged Melanie (Tara Buckam) living in her upper-class house. She is soon to be one of the targets of our mysterious Freddy Krueger-masked serial killer. But first she gets a phone call from her ex. He's drunk and sitting in a bar. She hangs up. Then she stands in front of a mirror with a blank stare, talking to herself while she's touching her breasts. The phone rings again, this time by the masked killer that has picked her as the new victim. He then says with a slow and cheesy distorted voice "I won't kill you straight awayyy, first I'm going to fuck your braaains ooouuut. " She calls the police and the police do what the police does best: nothing. He invades her home, backs her against the wall while pointing a knife to her face. She screams while looking at the camera and… we cut to the next scene where she wakes up in the hospital. Her daughter asks her, with emotions like a robot, when she's coming home. Soon, she says. When Melanie is suddenly out from the hospital, she's being stalked and kidnapped by some random dude (Peter Hooten) which I thought was Steve Guttenberg as first glance. While she seems to develop a bizarre stockholm syndrome to this guy in which they have several cringy scenes together, the masked killer continues his business with other victims. It's like watching two separate movies from here on: a soap opera and something that tries to resemble a slasher film. Confused? There's also a sideplot with a policeman trying to finally catch the killer.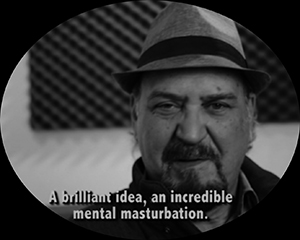 Bruh … What the fuck is this whack bullshit even supposed to be, you may ask. According to the director himself, who made it under the pseudonym Clyde Anderson, this is actually a psychoanalytical, intimate horror movie, didn't you already know that? He's also so proud of the idea of the film which he calls "a brilliant idea, an incredible mental masturbation." During the interview on the DVD's extras he says with a straight face that he wanted to make something like an Ingmar Bergman film. I've seen some interviews of Mr. Fragasso and there's just something about him that doesn't make him easy to read, yet I can catch glimpses of sharp, ironic detachment within his eyes. I'm not a body language expert nor Dr. Phil, but I've had this theory that he's quite self-aware and just trolling us (no pun intended). Because there's just no way a director in his age can sit and reflect on a complete demented and incomprehensible schlock 30 years later and view it as a flawless piece of cinema work while putting the cherry on top by comparing himself to Steven Spielberg. I just can't buy it. Sorry. I believe more in Loch Nessie having a baby with Bigfoot.
We can also just speculate how Mr. Fragasso instructs his actors, or if he just pours some green shrooms from Nilbog in their drinks before shooting. The way he makes them perform and convey emotions is nothing but absurd, if not unique, and nothing you see everyday. It's like watching a bunch of retarded aliens in disguise trying to behave like normal human beings, or human beans like Tommy Wiseau would say. Just like Troll 2, it's the acting that really does the film with the bonkers line deliveries, stiff, delayed reactions like Oh My GoooooooOOOOD while the actors can't hide their confused facial expression of "what the hell did I really sign up for? Will this be my legacy?" Fragasso knows exactly what they signed up for and he has the first laugh while he thinks to himself: I now own you forever, bitch.
And then we have the title itself, Night Killer. There was no chainsaw to be see in the Italian release but here we at least have a killer, even though there isn't much killing to see. There's only three body counts (as I remember) and they are as tame, weightless and ridiculously ineptly shot that they could easily fit in as segments in Sesame Street between Elmo and Abby's Flying Fairy School. There's not a single night scene here either, not even close to it. Every scene is shot like it was either a soap opera or a sitcom with its heavy use of light where in the outdoors scenes the sky is always blue and the sun is shining. Not a single shred of atmosphere or the feeling of looming threat. And then there's a twist. No spoilers, of course, but when you thought you've seen it all and just thought the film couldn't be more absurd, the twist will make your brain and head shrink (like the Goombas in Super Mario Bros) and leave you speechless. Not even M. Night Shyamalan in his wildest fever dreams could make this shit up. The film also ends with a cliffhanger, or sort of. And since Fragasso are hinting about a comeback as Clyde Anderson in the DVD interview, well, what are you waiting for, maestro? Gives us the sequel so I, among others, finally can recover and grow our heads back, per favore! Until then: Merry Christmas.



Writer and director: Claudio Fragasso
Original title: Non aprite quella porta 3
Country & year: Italy, USA, 1990
Actors: Peter Hooten, Tara Buckman, Richard Foster, Mel Davis, Lee Lively, Tova Sardot, Gaby Ford
IMDb: www.imdb.com/title/tt0401696/