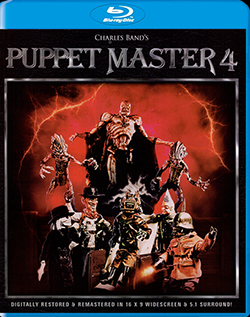 And now it's getting really silly, if it hasn't gotten already. In Puppet Master 4 we get our ass back to the Bodega Bay Inn with a new timeline where we get introduced to yet more meat suit balloons. And like the previous film, the puppets are the good guys. So, who's the baddies here you'd ask? Say HELLO to the demon Lord Sutekh, who's not some obscure former member of the metal band Gwar, but the ruler of Hell, the Prime Evil himself. The intro sequence where we see his stark color contrasted underground chamber as he sits on his throne surrounded with the most expensive Halloween decorations the budget allowed, not to mention the several piles of human skulls stacked around, surely grabs one's attention. And as we go back and forth to this set, it's the most memorable aspect of the film just by how over the top, cheesy and cartoonish it is. It's something straight out from an 80s Saturday Morning Cartoon, and as a kid of the 80s myself there's certainly some nostalgic strings to be pulled here, no pun intended.
Meanwhile at Bodega Bay Inn we meet the young scientist Rick who, among his girlfriend and some other friends, discover the secrets of Toulon's work with the puppets and the Elixir of Life, the whole package. A lot of nonsensical BS happens with an unfocused script with as much direction like a Russian drunk driver on a regular thursday afternoon, but the premise is that the demon lord we saw in the beginning wants the elixir so he can do whatever. Since he can't leave his domain he sends a couple of Totems, or just simply Demon Puppets, to invade Bodega Bay Inn and get the treasure. Toulon's puppets have to save the day.
Toulon pops up here and there as a bizarre hologram as he gives some advice. We have some quick lackluster kills with some leftover cranberry juice as blood. The human characters are just meh and generic. I was hoping to see more of the demon lord and if he was ever to leave the depths and enter the surface to raise hell and mayhem. Never did, and that's my biggest disappointment when they could do more of this character. Maybe it was a matter of budget which I would guess they blew most of on the demon lord's set-design, or all the five who wrote the script couldn't come to any agreements on what to do with him.
The final act is the most entertaining when it's basically Puppets vs. Hellpuppets. Naive, dumb, innocent fun with a great dose of lighthearted puppet action, some pretty decent stop-motion and lively camerawork. Probably more fun for the kids and given that's there's no tits or other sleazy nudity here, and the gore is almost non existent, this is as close it can get to being family friendly. There's also a weird Frankenstein reference thrown in here which leads to a robopuppet shooting lightning from his head. And the good old classic hand-drawn lightning effects will never, ever get old.
And then the film ends with a to be continued …
… and the film could just as well have ended there because there isn't much of a continuation in Puppet Master 5 which was made simultaneously with this one. It's the same movie all over again with little to no pay off. More scenes of puppet action while the demon lord just goofs around in his underworld basement sniffing his own sulfur-smelling farts. The fifth film was also promoted as The Final Chapter, and ha-ha, there's only ten more films. As a first time watcher of this franchise I was a little surprised it was able to barely keep afloat to this point, because it goes straight down the toilet from here on… and I just leave it at that. All films (except for two) are available at fullmoonfeatures.com. Have fun and good luck.



Director: Jeff Burr
Writers: Todd Henschell, Steven E. Carr, Jo Duffy, Douglas Aarniokoski, Keith Payson
Country & year: USA, 1993
Actors: Blade, Pinhead, Jester, Tunneler, Six Shooter, Decapitron, Gordon Currie, Chandra West, Ash Adams, Teresa Hill, Guy Rolfe, Felton Perry, Stacie Randall, Michael Shamus Wiles, Dan Zukovic
IMDb: www.imdb.com/title/tt0107899/

Related posts: Puppet Master III: Toulon's Revenge (1991) | Puppet Master II (1990) | Puppet Master (1989)