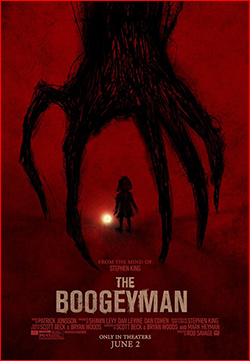 The Harper family suffers from the recent death of the mother, who died in a car accident. Will, the husband, is struggling coming to terms with it and despite working as a therapist he doesn't communicate well with his daughters, Sadie and Sawyer, who are suffering on their own. Sawyer, the youngest, is having nightmares and finds herself in need of keeping night lights on in order to sleep, while Sadie is having a hard time adjusting back into school as her friend has joined a group of girls who keeps treating Sadie like shit. While the whole family is suffering enough already, Will one day gets a man into his office who seems desperate to speak to him. The man's name is Lester Billings, who explains that all of his three children are dead and that he is suspected of having killed them. He claims that some kind of entity is behind his children's murders, and Will is getting the heebie-jeebies from the guy's attitude and decides to secretly call the police while leaving the man alone in the therapy room. From bad to worse, this man slips away into the house and hangs himself in a closet, which Sadie is unfortunate enough to see and becomes even more traumatized than she already was. After Lester's suicide, things are starting to become strange around the house of the Harper family. Sawyer starts noticing small glimpses of a creature hiding under her bed, and Sadie also starts noticing weird things. Soon, the girls realize that Lester Billings brought his children's murderer to their own house.
The Boogeyman is a 2023 supernatural horror film directed by Rob Savage (Host). The movie was actually originally announced in 2018 with Beck and Woods writing the screenplay, but due to Disney's acquisition of Fox it was cancelled in 2019, only to be revived in 2021 with Savage in the directing chair. It was also originally planned to just be released on the streaming service Hulu, but Disney instead opted for a theatrical release after positive response during the test screenings, and even Stephen King sent feedback about enjoying it, in which he wrote in an e-mail to Savage "They'd be fucking stupid to release this on streaming and not in cinemas".
The Boogeyman is based on a short story by Stephen King from 1973, which is included in Night Shift (for more movies based on stories from Night Shift, check out The Mangler and Graveyard Shift). There are significant changes from the short story to the movie version, however, as the original is pretty much a one-room story about a man coming into a therapist's office to talk about his dead children, which he believes have been killed by "the boogeyman". The story is actually quite suspenseful, keeping the reader guessing as to what actually happened with the man's children as he doesn't exactly come off as the most sympathetic of people. And there's the twist ending too, of course. So, how does the movie compare?
First off: while parts of the short story has been kept in the movie, it is of course very different as the man in the story (Lester Billings) is not the main character here. We also get more than a few of the modern horror tropes: dead family member, grief, single parent, etc. and as most supernatural horror movies these days fare, it's not exactly scary. That doesn't mean it's bad, because overall it's quite decent as a typical streamlined horror flick with supernatural elements (and of course, it's considerably better than the Boogeyman movie from 2005, which doesn't have anything to do with the Stephen King short by the way). Not unexpectedly, there's no originality here, but the main issue with the movie is the pacing where there's some parts that takes a little too long to come off.
The strength in this movie lies in it being relatively well-crafted which lifts it some cuts above average, and there's a dark oppressive atmosphere throughout. It's using grief as some kind of metaphor for the monster, and the boogeyman looks fairly okay (although, of course, he looks creepier when you only see him in the shadows during small glimpses). It's not a movie that will make you turn your night lights on, but at least it's a decent watch.

Director: Rob Savage
Writers: Scott Beck, Bryan Woods, Mark Heyman
Country & year: USA, Canada, 2023
Actors: Sophie Thatcher, Chris Messina, Vivien Lyra Blair, David Dastmalchian, Marin Ireland, Madison Hu, Maddie Nichols, Leeann Ross, Rio Sarah Machado
IMDb: www.imdb.com/title/tt3427252/