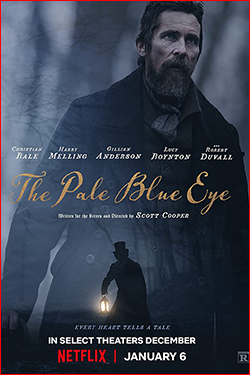 The year is 1830, and we're in a cold October month. Augustus Landor, a widower who lives alone and is also a retired detective, is asked by the military to investigate the hanging of one of their cadets. After the cadet was hanged, his heart was removed from the body. Upon examining the corpse in the morgue, Landor finds clues suggesting that this is not a suicide case, but a murder case. He meets the weird Edgar Allan Poe, who is another cadet at the academy, and the two team up in order to solve the case. Ritualistic animal murders makes them think the murder could be linked to some occult black magic rituals, and when another cadet is also found hanged, with both his heart and genitals removed, Landor and Poe begin to suspect the family of Dr. Daniel Marquis whose daughter Poe has become quite enchanted by.
The Pale Blue Eye is an mystery thriller written and directed by Scott Cooper, and it's an adaption from a 2003 novel by the same name, written by Louis Bayard. Scott Copper also directed Antlers, so it comes as no surprise that he is able to competently master stories that are dark and atmospheric. Despite the famous Poe himself being a major character here, the story itself is based entirely on fiction, although there are some small slivers of facts mixed in: Poe did indeed attend West Point Academy as a cadet from 1830-1831 (of which he later got himself purposefully kicked out from). There are also a few names and things in the movie that are references to some of Poe's stories (Landor's Cottage, for example). And not unexpectedly, you'll see at least one Raven. Poe fans will probably have a fun time looking out for all the little tidbits referencing his work.
The movie plays out as a standard murder thriller where little bits and pieces are coming into place one at a time. Hidden notes, secrets revealed, red herrings, etc. The common components of a mystery thriller are all there. The pacing is a bit slow, but the focal points here are the gothic, spooky atmosphere, and the performances where both Christian Bale (as Landor) and Harry Melling (as Edgar Allan Poe) do a solid job portraying these characters and their chemistry. While Poe isn't displayed with his identifiable mustache, you can definitely see the likeness here. And aside from the characters and performances, the murders are grotesque enough to keep you interested in knowing who could be behind such crimes (and why), and the cold wintry scenery puts an extra chill into it all. The fitting soundtrack was made by Howard Shore, who is most known for composing the soundtrack for the Lord of the Rings and Hobbit film trilogies, but is also behind the score of a lot of well-known (and some lesser known) movies in different genres, including horror.
Overall, The Pale Blue Eye is an entertaining whodunnit thriller with some dark twists and turns, blended with gothic atmosphere.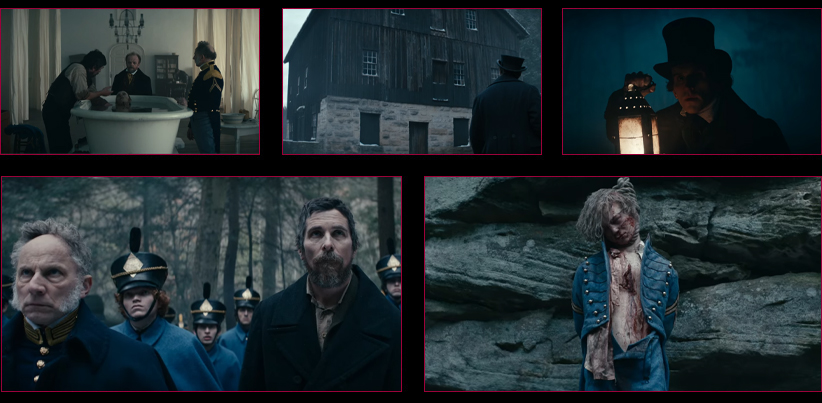 Writer and director: Scott Cooper
Country & year: USA, 2022
Actors: Christian Bale, Harry Melling, Simon McBurney, Timothy Spall, Toby Jones, Harry Lawtey, Fred Hechinger, Joey Brooks, Charlotte Gainsbourg, Lucy Boynton, Robert Duvall, Gillian Anderson
IMDb: www.imdb.com/title/tt14138650/