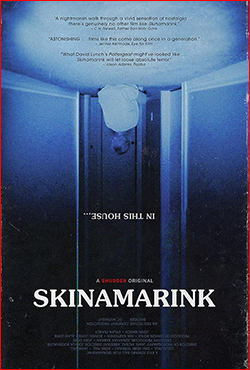 The year is 1995, and the 4 year old boy Kevin injures himself during a sleepwalking episode. We're told he was taken to a hospital, and then brought back home. He and his 6 year old sister, Kaylee, then wakes up in the middle of the night and finds that their father has disappeared. And that's not all…the doors, windows, and certain other objects also keeps gradually vanishing. The children, appearing to be more puzzled than scared, decide to sleep downstairs while watching cartoons. They soon realize that they're not really alone in the house, after all.
Skinamarink is a Canadian experimental horror film from 2022, written and directed by Kyle Edward Ball in his feature directorial debut. Prior to this film, the director ran a YouTube channel called Bitesized Nightmares, where he would ask his viewers to write about their nightmares and he would create short videos based on them. Skinamarink was inspired by the most recurrent themes in the submitted nightmare stories, and he also recounts having had a nightmare when he was a child where he was in his parent's house while the parents were missing, but there was a monster there. And a lot of people seemed to have shared a similar kind of dream. Before the feature film, he created a short film called Heck which was a proof of concept for Skinamarink. The film's title might ring a bell for some, as Skinnamarink (aka "Skid-dy-mer-rink-adink-aboomp" or "Skidamarink") is a popular preschool sing-along song from North America. He chose to alter the spelling a bit so children searching for the song would not accidentally find his film instead. The film was shot over seven days in 2021, in the director's childhood home, using some of his old toys. It had a budget of $15.000 which was mostly crowdfunded. The film got widespread social media attention after one of the online film festival screenings caused the movie to become downloadable due to a glitch, and thus it was spread and this caused it to go viral.
And yeah…this is one of the times when the worn-out phrase "this movie is not for everyone" can easily be replaced with "this movie is for a select few". It's very experimental, and if you've never seen an arthouse film before you're probably either gonna end up wondering what the hell this is, or snooze off within the first few minutes. For the right kind of audience, though, it's prone to be a different experience. When we watched it, we pretty much knew what we were in for, and while some movies are best seen going in blind, this is definitely not one of them. If you're aware of this being a very experimental and abstract film, hardly providing any plot, you're in the clear. Then you'd likely to be prepared for the experience. In many ways, the film is quite demanding towards its audience and could easily have been considerably shorter. It's like a nightmarish ASMR, but if you've ever suffered from night terrors and fear of abandonment during your childhood, I'm certain this film will click more into place for you. It's a movie that through its experimental scenes and surreal vibes, draws upon the childhood fears of being left alone without a guardian. The soundtrack mostly consists of the TV screen, playing the tunes and sounds from old public domain cartoons, and this certainly gives off an eerie and surreal vibe. Some of these movies include Max Fleischer's The Cobweb Hotel and Somewhere in Dreamland, as well as Ub Iwerks' Balloon Land, and Merrie Melodies Prest-O Change-O.
Skinamarink is a movie where you really need to know what you're in for. It's a movie that's more of an experience than a story (although there is some kind of story hidden there in a very subtle way). Other experimental movies like for example Begotten will feel fast-paced and easily consumed in comparison. But I can see how it can evoke the inner childhood fear in some people, irrational as though those fears may be and how aware we are of that fact.
And if you think Skinamarink was too abstract, experimental and slow, there is actually a 1967 movie called Wavelength where you'll watch a long zoom of a window stretched over 45 minutes…



Writer and director: Kyle Edward Ball
Country & year: Canada, 2022
Actors: Lucas Paul, Dali Rose Tetreault, Ross Paul, Jaime Hill
IMDb: www.imdb.com/title/tt21307994/