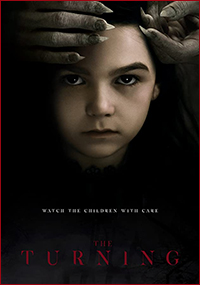 Kate is applying for a job as the new governess for Flora Fairchild, a wealthy young heiress whose parents are both dead. Flora's older brother, Miles, soon arrives home from boarding school, and it appears he's got an attitude that Kate finds troublesome. In fact, Kate starts experiencing things around the house that makes her believe something is going on, and it cannot all be blamed on tricks put in by little children. What is going on inside the house – and what happened to the previous governess who just ran away?
It isn't often that we see a movie purely based on a curiosity of how much of a stinker it really is. Upon its release, The Turning received almost unanimously bad reviews, with very low scores. It was obvious that a lot of people didn't just dislike the movie, in fact, many seemed to be quite pissed off by it. So what is all the fuss about? Well…
First of all, let me start off by saying that the movie is another take on Henry James' novella The Turn of the Screw, which has been put on the screen several times before. This movie is quite loosely based, however, which may be off-putting for people who are fans of the novella. Still, the movie isn't that much of a stinker as we thought it would be, to be honest. It does have a fair amount of atmosphere and creepy settings, great visuals and good acting by the cast. While it's not the least bit scary, and even a bit slow, it could have fared well as a simple gothic ghost story…but there is a major flaw: the ending. It's both sad and a little baffling that they chose an ending which leaves the viewer both confused and frustrated. It's a perfect example of how an ending can literally destroy a movie, and if it wasn't for the overall okay experience prior to the movie's final moments, it wouldn't be so disappointing. I mean…we've seen a ton of horror movies that are just lacking throughout, so a bafflingly bad ending doesn't make much of a difference. Here, however, it just feels unfair, and you get the impression that this ending was added more like a rushed afterthought and not being the planned ending at all. I have heard there is an alternative ending included on the physical releases, and I can imagine it's better (then again, pretty much anything would be better).
Now, I cannot say I feel that watching The Turning was a total waste of time just because of its final moments. With its strong visuals and good cast we did find it somewhat entertaining throughout, despite it being a bit slow and sluggish. I'm guessing that viewing it with its alternative ending may make it an overall better experience. Of course, since we watched this movie with very low expectations and were already aware of its supposedly horrible ending, I'd say we came prepared. We find that its fair to give the movie the "Creepy" badge, but mostly due to the atmospheric scenery and visuals.

Directors: Floria Sigismondi
Country & year: UK | Ireland | Canada | USA | India, 2020
Actors: Mackenzie Davis, Finn Wolfhard, Brooklynn Prince, Barbara Marten, Joely Richardson, Niall Greig Fulton, Denna Thomsen, Kim Adis, Darlene Garr
IMDb: www.imdb.com/title/tt7510346/