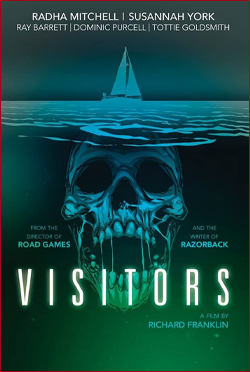 Georgia Perry (Radha Mitchell) is a stubborn and strong-willed young woman: she's decided to travel around the world in her 44-foot sloop, all by herself (well, almost…she's got her cat for company). Being used to spending time at sea, and also spending time alone, it goes pretty well at first. She's used to enjoying her own company, and the cat provides just enough social comfort. Then, the solitude starts taking its toll…while starting with small and insignificant things like starting to talk to her cat…which isn't uncommon…I mean, who doesn't talk to their feline companion once in a while? Except, of course, the cat starts talking back to her. A big red flag for her mental well being there, all right. But when she also starts hearing strange noises, and a mysterious fog appears which brings with it a whole array of deceased family members who have suddenly decided to drop in for a visit, it's time to take it seriously. Is this just a severe case of cabin fever, or is something else happening at sea?
Visitors is a psychological thriller directed by Richard Franklin (most known for directing Psycho 2) where nearly all of the playtime happens out at the big blue ocean. While it's not a truly scary film, it does have a few chilling moments with creepy atmosphere and some interesting scenes. Georgia's "ghosts" aren't only appearing during nighttime, either, but in bright daylight as well, adding to the feeling of claustrophobia as there's no escape. In a haunted house, you can always run outside…but what can you do if the haunting happens in a boat, far out at sea? Nothing of course, unless you want to jump aboard and drown yourself.
While Visitors is an okay thriller, it's not faultless, and there are some rather questionable CGI effects which diminishes the creepy atmosphere a bit. There's also some scenes that are chugging along a little bit too slowly. Still, overall the movie is an okay watch, mostly for its deep dive into human psychology and the effect of being alone over a long period of time, in surroundings where there's no one and nothing for miles upon miles. It's strange how the ocean can appear to be so open, but still so claustrophobic…no matter where you turn, there's no rescue, nowhere to find refuge.
If you're looking to get your toes wet with a movie that provides a good amount of action, I guess something like Deep Rising would be a safer bet. Visitors is a slow-burning thriller with some creepy scenes and atmosphere, and people that can relate to the idea of being all alone, while haunted by your inner demons, will probably appreciate this movie the most.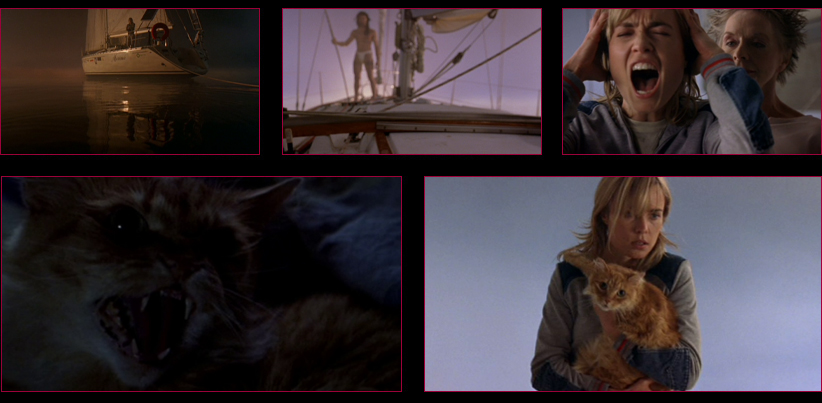 Director: Richard Franklin
Writer: Everett De Roche
Country & year: Australia, 2003
Actors: Radha Mitchell, Susannah York, Ray Barrett, Dominic Purcell, Tottie Goldsmith, Che Timmins, Christopher Kirby, Jan Friedl, Soula Alexander, Roberta Connelly, Michelle McClatchy,
IMDb: www.imdb.com/title/tt0301989/