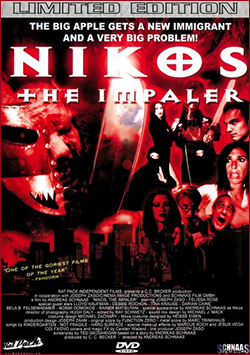 We're supposed to be somewhere in Romania during the middle-ages, where some evil iron-masked barbarian named Nikos (embodied by Andreas Schnaas) is ready to be executed in a cave by an angry mob. The tone is set in stone already during the first seconds with its horrendous bad lighting, grainy muddy images, bonkers acting with cartoonish dialogue deliveries, and the sheer atmosphere of zero-budget reeking all over the place. It's what to expect from Andreas Schnaas, if you're already familiar with his home-made and chaotic splatter films. And just forget about any thick Romanian accents, here they speak fluently American. God bless. Anyway … before they cuts out his entrails and sets him on fire, we get dialogues such as:
– Nikos, today you die!
– I. shall. not. DIE!
– I. never. DIE!
– I will return…to seek my revenge!
And of course,  Nikos was a man of his word. We jump to present day, all the way to New York City, where Nikos' iron mask has been stored in a museum as an ancient artifact. Things go straight to a violent shitshow when a robbery goes wrong and some blood gets spilled on Nikos' mask. He is then resurrected and wastes no time to find new victims to kill in the most brutal ways possible. And lucky for Nikos, the museum is already filled with visitors, ready to be body counted.
This is the eighth film of Andreas Schnaas, and it's pretty established by now that he isn't a technical, competent director, to put it mildly. There's isn't much of an improvement to point out, and Nikos could easily fit right into the Violent Shit series. Nikos has the same level of amateurish look and the the same paper-thin plot as the Shit series, filled with gallons of fake blood, hilariously bad acting, lots of messy low-budget gore, insanity and a lot of shit. Most of the film happens indoors and at night time, and thus suffers from inept lighting and a camera with a lens that looks like it was rubbed by a thin layer of butter. Its blurry, ugly and looks like more shit than ever, and I don't know if that's an insult or a compliment, to be honest.

But even though Mr. Schnaas never seemed to have the desire to make it to mainstream Hollywood, he rarely fails to entertain. There's always some raw energy behind his films, and Schnaas  just seems to have one big, wild party while making them, as the madman he is. How much we actually laughs with or at the movie is not easy to tell, but that just makes it even more funnier.  We also see Nikos goes on a murder-spree in the streets of New York and causing mayhem by using his sword to shoot laser against cars. And the explosions looks like something from a Nintendo 64 game. It gets to the point where it's just so-bad-it's-good, really.
The acting isn't much to talk about, it's only stick figures just set up to be killed, played by a bunch of amateur actors. Some of them have some funny dialogues between the kills to keep us entertained, at least. The cult-actress Felissa Rose (that girl from Sleepaway Camp) is maybe the most familiar face among the bunch. Nikos also walks into a VideoTape store (back in a time when they still existed) so we can have some funny cameos from Tromaville, like Lloyd Kaufman and Debbie Rochon – and last but not least the porn actress Darian Caine, who was comfortable enough to be slaughtered in a messy shower scene with a lot of fake blood pouring down her tits.
Nikos the Impaler is available on eBay after the limited editions flew out of stock years ago. It's also on YouTube, but with crappier image quality.




Director: Andreas Schnaas
Country & year: USA, 2003
Actors: Joe Zaso, Felissa Rose, Andreas Schnaas, Antonio Tomahawk, Frank Franconeri, Daniel Alvaro, Mike Marino, Hugh C. Daly, Erotida Cruz, Fred Cerniglia, Abbandandolo Brenda, Joseph Michael Lagana
IMDb: www.imdb.com/title/tt0309916/